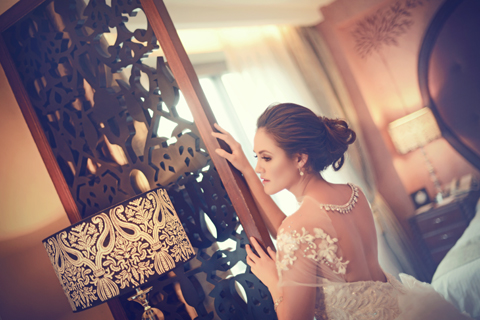 Every little girl dreams of being a princess finding her one true love and living happily ever after, but wedding gown designer Zandra Lim's childhood dreams involved helping others with their happy endings as well. Zandra's mom owned an atelier when she was growing up, and Zandra was exposed to the process of creating clothes. It was no surprise, then, that her inclination towards fashion came quite naturally.
While Zandra had an obvious passion for fashion, her career path was first directed by her other interests. She finished college with a Bachelor of Science in Pharmacy and began her own drugstore business--but her passion resurfaced when she started seriously designing gowns while managing the shop as well. Friends of friends would drop by her drugstore to have gowns made for special occasions. After a few years of juggling her two businesses, Zandra realized that designing gowns was what she really wanted to do.
To enhance her technical skills, Zandra took up Fashion Design at the Istituto di Moda Burgo in Milan, Italy. She opened her own boutique in 2003. In a continuous effort to hone her craft, Zandra also took a Textile Effects course at the University of the Arts, London-Central Saint Martins College of Arts and Design.
It was only natural that Zandra decided to specialize in designing bridal gowns. "I love frills, beads, paisleys, brocades, even as a child," Zandra says. The transformation that brides undergo--from their everyday appearances to looking their "fabulous best"--is what strikes Zandra about designing for brides. "I absolutely love the grandeur of weddings. It's like a fairytale coming true. I wanted to be a part of that fairytale story and be a part of the most important event in their lives," she adds.
ADVERTISEMENT - CONTINUE READING BELOW
While quality of work, great fit, and elegance are a must in Zandra's gowns, she doesn't believe in limiting the styles of her gowns and putting a stamp on her designs. "As a whole, individuality is the essence," Zandra says. "The gown should exude [each bride's] personality. The venue, theme [and] atmosphere also play vital roles in the design."
To ensure that each gown represent the bride's personality, Zandra's preparations include getting to know each client's vision for their gowns. "These days, brides know what they want. They are armed with designs and ideas before even coming to see me," she says. "That's the first thing I put into great consideration--what they envision their wedding to be like--and I take it from there."
While Zandra Lim Designs has gained a following among Pinay brides, Zandra is always keen on achieving the company's full potential. By constantly striving to be among the best in the wedding industry, she sees her company gaining even greater success in the future.
Click here to schedule an appointment with Zandra Lim.

Comments
Load More Stories