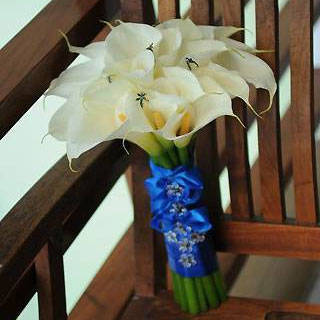 In this day and age, when more and more couples are going the less traditional (albeit more practical) route when it comes to their weddings, there are many details that brides-to-be choose to forego, like a lavish buffet or expensive gowns and suits for their entourage. However, there are still those things that all weddings simply cannot do without--one of which would be flowers. Could you imagine a wedding without floral decor a bouquet to toss? We sure couldn't.
It's a good thing there are veteran florists in the local scene that couples can turn to when it comes to planning their perfect wedding.
Weddingsurance Flowershop, owned and managed by Susan Tambot, has been in the flower arranging business for already a decade. But Susan admits that she can trace her interest in styling flowers to as early as 1984. Back then, her aunt owned Lourdes, a flower shop in Quiapo. It was under her aunt's tutelage that Susan slowly developed her eye, as well as love, for making her floral masterpieces. She recalls that at the time, they churned out their deliveries with no help from floral foam or tape, and always with a limited supply of flowers. To address the situation, they used other flowers and crepe paper to cover the wires and hold the arrangements in place. Doing so taught Susan to be more creative and ingenious with her designs early on.
ADVERTISEMENT - CONTINUE READING BELOW
Now with a shop of her own and countless clients, Weddingsurance Flowershop caters to different styles and wedding requests. However, Susan regards the Ikebana design as their signature arrangement--the elegant and simple lines of this style are said to symbolize the heavens and the earth.
Susan collaborates with clients to make sure that they're on the same page. She prefers face-to-face consultations rather than just exchanging e-mails or calls, so that they can better discuss the executions. Doing so also allows her to get a better feel of what her customers want.
Giving their clients the best possible options and service is Weddingsurance Flowershop's priority. The name itself wishes to highlight the importance of assuring customers that their needs come first. As for how she continuously improves her craft, Susan credits constant research and experimentation. In the future, she hopes to come up with new trend-setting arrangements that are less time-consuming to make, which would allow her more time to enjoy her flourishing business.
ADVERTISEMENT - CONTINUE READING BELOW
To see sample arrangements and to get in touch with Weddingsurance Flowershop, click here.

Comments
Load More Stories