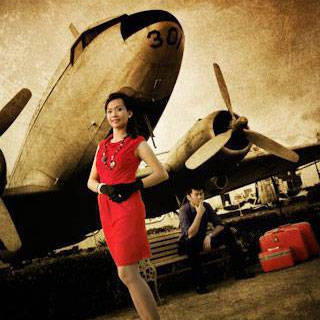 With the number of photographers in the wedding industry, some stand out from the rest not just because of their skills, but because of their passion--something that Trio Photography has a lot of.
The team behind Trio Photography falls into the narrow and lucky margin of individuals who mix business and friendship. Around five years ago, Mac, Benjie and Cindie were invited to shoot a friend's wedding. While photography was nothing more than a hobby to all three of them, their work spoke for them. Eventually, clients came around and Trio Photography was born almost naturally. Being friends made it easier for them to be partners professionally--what with the same goals, work ethic and ultimately, a shared passion for artistic storytelling. They believed that they offered a unique contribution to the wedding industry. And they were right.

With a style that features a contemporary approach of blending traditional posing and photojournalism, Trio Photography is proud of all the work they've accomplished so far. They also make it a point to be very hands-on and personal with addressing the needs of their clients.

ADVERTISEMENT - CONTINUE READING BELOW
The group also pioneered conceptual prenuptial shoots, allowing clients to come up with concepts that complement their personalities. From brainstorming pre-nuptial shoot concepts down to the final stages of editing the wedding photos, the team insists on being involved. For them, weddings are special and once-in-a-lifetime affairs, and so they put passion and heart in every snapshot they take. Capturing these priceless moments at a celebration is much more than their bread-and-butter.
After years of covering weddings, you would think they have everything down pat, but these three are not ones to rest on their laurels. Always trying to find the latest news in the photography world, they busy themselves with brainstorming sessions and are constantly cooking up fresh ideas and concepts. They also invest in trainings and join groups, like the Wedding and Portrait Photographers of the Philippines (WPPP), which aim to foster camaraderie amongst photographers in the industry. As of now, they are working on including videography as part of their services. In the future, they hope to bring their business to foreign soil and have some of the most picturesque landscapes--like Santorini and Paris--as their backdrops. With the three friends' determination to pursue the next step, their business unsurprisingly flourishes.

ADVERTISEMENT - CONTINUE READING BELOW
To see sample photos and to learn more about Trio Photography, click here.

Comments
Load More Stories