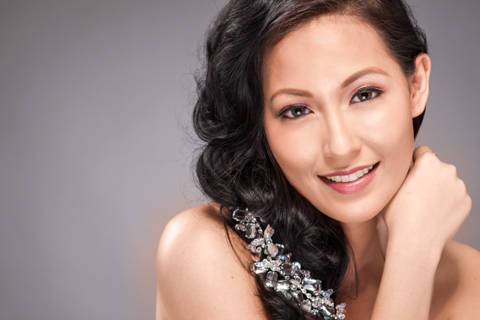 When a bride looks for a makeup artist, she not only looks for someone skilled in cosmetics, but more importantly, someone who also values making the bride look and feel her most beautiful on her big day.
Each bride invests her emotions in her wedding, and for professional makeup artist Toni Rodriguez, doing bridal makeup is a great opportunity to be a part of the bride's wonderful experience. "I joined the wedding industry because I wanted to work with real women and be part of their most special day. Weddings are special to me because unlike TV commercials and print ads, this is the most genuine industry for makeup artists like me. Not only do I get to do my client's face, but I become part of the couple's journey. At the end of the event, my brides become my good friends," Toni explains.
Toni has been in the business for four years, and she feels that beautifying brides on their big day is what she's made to do. She shares, "I've always been amazed with how makeup can transform an actress to fit the role she needs to portray. I've always seen makeup as a form of art, but my respect for makeup intensified when I saw how it can transform a regular woman and boost her confidence."
ADVERTISEMENT - CONTINUE READING BELOW
Realizing her passion for makeup, Toni underwent professional makeup training to develop the skills and technique needed for chosen career. Through constant learning and practice, Toni found that doing bridal makeup can be a challenging but fulfilling task, especially when done the right way. "It takes proper training, a keen eye, and a pair of light hands to do makeup properly," Toni asserts. She also believes that bridal makeup should always look timelessly beautiful, so that every time a bride looks at her wedding photos, she would still appreciate the look she donned on her big day.
Toni elaborates, "Brides should look effortlessly beautiful. They still look like themselves, but better versions. Bridal makeup shouldn't look thick at all; instead, the bride should look as perfect, flawless, and natural as possible in person or in front of the high-definition cameras." With Toni's attention to detail, she makes it a point to meet her clients before the wedding day to come up with the look that best suits the bride. Moreover, Toni supplies her brides with valuable tips on different concerns--from the style of the gown to the proper skincare regimen.
ADVERTISEMENT - CONTINUE READING BELOW
To continually offer quality makeup services, Toni arms herself with premium cosmetics and the latest makeup techniques through continuous trainings here and abroad. She also attends both local and international bridal fairs to keep up with trends.
Inspired to touch real women's lives through her craft, Toni allows her brides to remember all things beautiful on their big day.
Comments
Load More Stories