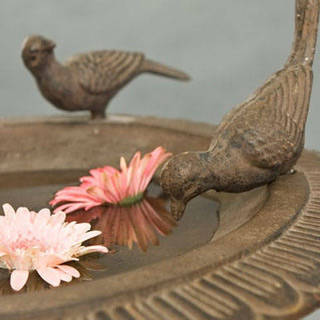 Weddings have evolved to be bolder--more innovative in style and more experimental in concept. While churches remain to be a popular choice among couples, garden weddings are not far behind. More and more couples are mesmerized by the charm of outdoor ceremonies, but finding materials and accessories that will complement the theme may be quite a challenge. And it is exactly why and how The Garden Wedding Co. came to be, anchored in the desire to make garden weddings and parties daintily executable. Their goal is to fill in the little details in between and create a beautiful environment on their client's wedding day.  

Like a fairy godmother in children's books, Deborah How of The Garden Wedding Co. has made a lot of dream garden weddings come to life. Offering an array of locally and internationally-made products in the likes of Tiffany Chairs, AstroTurf artificial turf, grass hedges, birdbaths, candelabras, wishing wells, fountains, urns and pedestals, iron gates, bar stools and lamp posts, she has created strong ties with caterers, wedding and reception venues, events stylists, wedding coordinators and planners. On top of that, she also has a pool of direct clients ranging from marrying couples to those planning kids' parties and corporate events.

Deb was happy in working for their family business and managing Le Maquillage Salon at Mandarin Oriental Hotel Manila, but she has always wanted to do something related to weddings, which she finds very special and beautiful. It was when a good friend of hers decided to tie the knot that the opportunity presented itself. Her friend, the bride, was determined to have a garden-themed wedding, but the search for suppliers became tough. Driven by her compassion for a friend and her life-long dream, Deb tried to put together what she can, and her efforts resulted into a beautiful outdoor set-up. After receiving one positive feedback after another, Deb found herself with inquiries if she rents out her materials. It was then that she decided to add more products and establish The Wedding Garden Co.

ADVERTISEMENT - CONTINUE READING BELOW
To allow her business to flourish, Deb takes time to know her clients. She says that she wants to make them happy and keep her items reasonably priced for its quality. Believing that the possibilities are endless, she is constantly delighted to play with ideas and learn something new every day. She loves working with couple with new and out-of-the-box ideas. Driven by her commitment to creativity and efficiency, Deb is thrilled to expand and help more brides and grooms draw a beautiful backdrop for their big day.
To see photos of products and learn more about The Garden Wedding Co., click here.

Comments
Load More Stories