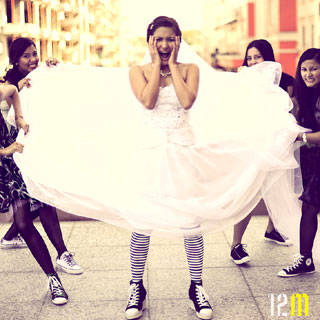 No two couples are the same, and that means that no two weddings are exactly alike, either. The uniqueness of each celebration is what makes each wedding special, and that's what inspires the team behind The 12Masters Photography.

The group, which got together after meeting at a wedding photography workshop six years ago, is passionate about highlighting their clients' quirks. Shares their main photographer Marvin Dungao, "We always enjoy looking out for and capturing the uniqueness of every couple--their [unusual] habits, and their [distinct] beauty." We believe that as their photographers, you don't just need to capture moments, but to capture what's in that particular moment that makes it different from the other weddings. Otherwise, you will just end up photographing a bunch of crying people in every wedding."
The team's fresh take on doing their business has allowed them to challenge the boundaries of wedding photography. Each photographer brings something to the table, and their synergistic efforts bring the best results. "What's unique about the 12Masters is that all the members of the team have equal skills and talent. Each of us specializes in a particular aspect of wedding photography. But of course the [common denominator] of the 12Masters brand is the use of natural lighting," says Marvin.
The 12Masters Photography team does contemporary, glamorous, and spontaneous photography. Marvin elaborates: "We incorporate new styles without losing the classic wedding photography."
The group's penchant for uniqueness not only applies to their photography style, but also to how they get ready for the event. "Study but do not plan--that's our motto. We study the couple's profile, beauty angles, and how they talk and bond with each other, but we don't plan the shots and poses. When we see the place on the actual shoot date, images just keeps on popping out in our mind, and then we execute. That's how we are able to capture unique photos," narrates Marvin. With spontaneity being the name of the game, the team comes up with different photos each time they shoot.
ADVERTISEMENT - CONTINUE READING BELOW
While the team loves to live in the moment when they cover weddings, they do realize that in order to do that, they must also be masterful in their craft. Says Marvin, "Continuous education is a must. There is always someone better than you in this world, so the 12Masters always makes sure to study new styles, and more importantly, we always invent new things in wedding photography." By constantly pushing the envelope, they become one step closer to their dream for The 12Masters Photography brand. Marvin adds, "I want the 12Masters brand to be the main choice of every couple in wedding photography. I want my whole Facebook Wall to be filled with new profile pictures shot by the 12Masters."
Comments
Load More Stories