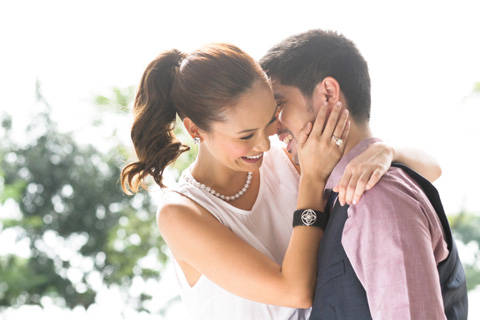 Of all the things needed for a wedding, wedding rings are among the important ones, as they serve as everyday reminders of the love and commitment shared by two people. With such a precious meaning, most couples dedicate time and effort to look for the perfect pair of rings worth keeping for the rest of their lives. And for wedding ring supplier Sunjewel, it is their commitment to help marrying couples find wedding bands that suit them best.
Aside from putting importance in the quality of their rings, Sunjewel also capitalizes on their personalized service to give couples a memorable experience. While Sunjewel presents couples with a variety of styles and options of high-quality wedding rings that cater to different personalities, they also offer custom-made pieces for those who want to incorporate a special personal touch to their wedding rings.
With Sunjewel's service, it is no wonder that their clientele with discerning taste continually grows. Blogger, TV Personality, and bride Patty Laurel shared in her blog that she trusted Sunjewel with her custom-made wedding rings. As she wanted the diamonds from her grandmother's ring incorporated to her own wedding ring, she knew that she should get a trusted artisan jeweler who will deliver her special wish. "Since I was using my grandmother's ring, its sentimental value definitely outweighed its actual monetary value. It's easy to just buy a ring from any store if you have the buckaroos--but to replace a ring that was worn by generations of women before you, now that's just impossible. So I had to be careful with it," Patty shares.
ADVERTISEMENT - CONTINUE READING BELOW
To her delight, Sunjewel didn't disappoint, and even surpassed her expectations. She and her fiancé were invited to Sunjewel's factory to personally see the hard work and craftsmanship that goes in every Sunjewel ring. With all the effort and collaboration that went into their wedding rings, Patty cannot wait to finally walk down the aisle, exchange I do's with her dear Patrick, and wear the special custom-made Sunjewel ring around her finger for the rest of her life.
When couples visit the shop, which is located at the ground floor of Edsa Shangri-la Hotel, Sunjewel's warm staff guides them throughout the process--from the initial choosing right down to the final fitting to ensure the best quality, comfort, and style. Depending on the design and special requests of the couple, Sunjewel requires at least one to two weeks lead time to deliver a pair of wedding rings. Moreover, Sunjewel also offers flexible payment terms and an online billing option for budget-conscious couples.
With Sunjewel's quality wedding rings and personalized services, couples are assured that their bands are made to last for a lifetime of love and great memories.
Load More Stories