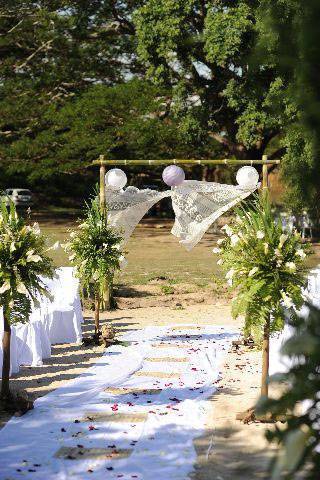 Isak Dinesen once said, "The cure for anything is salt water: sweat, tears, and the sea." The sight and sound of rushing waters always invite a sense of calmness, clarity, and inner peace. The sun, sand, and salt intertwined with strong, powerful emotions, create moments that will be forever imprinted in people's minds. Stilts Calatagan Beach Resort offers a whimsical haven to couples searching for a wedding or prenuptial location.
Located in Batangas, Stilts Calatagan Beach Resort boasts of expansive grounds composed of a lush garden, rustic cottages, and a lovely beachfront. Upon entering the compound, guests will be mesmerized with the beautiful scenery and calm ambiance that draws people together.
Mina Herrera from Stilts says, "Couples who have chosen Stilts as their wedding or reception venue have told us that they walk into Stilts and think "This is it!"  What sets Stilts apart from other venues are its special touches. We want guests to keep on coming back because Stilts is their favorite place or their second home--a place where they can relax, breathe easy, and bond with family, friends and their special someone."
ADVERTISEMENT - CONTINUE READING BELOW
Among the things that couples can expect from the immaculate venue are charming decor, ample amenities, and professional service from the staff. Most returning visitors don't only come back for the view, but for the complete experience offered by the whole team. "As part of our mission to make sure that guests follow their bliss, we help take care of details ranging from lighting, décor, and cottage assignments to romantic dinners, sweet serenades and special setups," adds Mina.
CONTINUE READING BELOW
Recommended Videos
Packages for prenuptial sessions, wedding rites, and receptions are also available, making it easier for couples to celebrate their big day at Stilts. These deals are flexible depending on the couple's need and budget. In addition to being an events venue, Stilts also offers catering and styling services. Moreover , couples may also choose to have their wedding ceremony at any of the churches located just a few minutes away from the resort.
ADVERTISEMENT - CONTINUE READING BELOW
Stilts does not only offer a breathtaking view, but an experience that one will remember for years to come. This quaint resort by the sea is sure to inspire beautiful memories with its charming ambiance and remarkable service.
For more information on Stilts Calatagan Beach Resort, click here.
Comments
Load More Stories