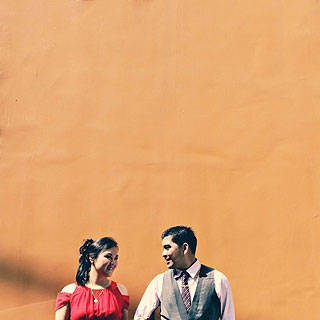 Quality of services and reasonable prices are among the major factors that couples look for when scouting for wedding suppliers. These days, couples want to get value for money, and they know that pulling off a beautiful affair doesn't necessarily mean spending a fortune. Saintz Photographs, who does wedding photography and videography, are among the wedding suppliers that recognize this concern.
Saintz Photographs offers various packages to suit their clients' needs. The company, with Eymard Figueroa at the helm, features a pool of professional photographers and videographers that share a passion for capturing special moments. Eymard got into photography back in 2007, and started doing wedding photography in 2009. "I started as a hobbyist photographer, but eventually I decided to take my hobby more seriously," narrates Eymard. Part of Eymard's efforts to take his hobby seriously was taking Basic Photography under the Federation of Philippine Photographers Foundation in Intramuros, and finally forming his photo and video team--Saintz Photographs was born. 
Today, the three teams specialize in capturing a range of emotions in the celebration. Eymard says, "My style is contemporary, candid, and journalistic with a mix of fine arts. However, I shoot using the traditional style if the client requests for it." The teams love taking unguarded photos and videos, since those tell genuine stories.
While the teams have found their photography and videography style, they are also unafraid to experiment with new ideas. "I always browse magazines for portrait techniques, and also look at the works of both local and foreign wedding photographers," shares Eymard. By keeping themselves inspired, they are able to hone their skills.
ADVERTISEMENT - CONTINUE READING BELOW
With the teams' passion for their craft, and the drive to excel in what they do, they also dream big for the future. "[We wish to be] well known destination wedding photographers someday," says Eymard.
To learn more and see sample photos by Saintz Photographs, click here.

Comments
Load More Stories