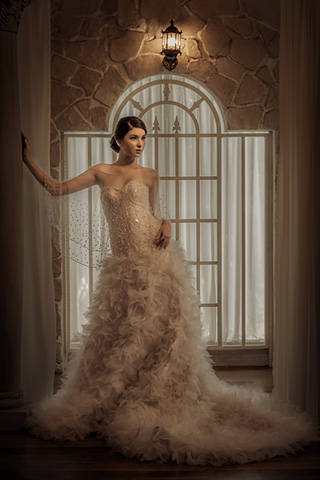 One of the most crucial decisions in wedding planning is choosing the photographer to entrust your day with. As taskmaster in charge of documenting your day, your photographer will be your eye, capturing moments as they happen and narrating them creatively. It is from his lens that you'll watch your wedding when the day is over. Hopefully, their vision is one that coincides with yours, and one that results in photos that paint a fusion of all the love, happiness, and possibilities you and your groom experience on your wedding day.
Couples with a penchant for fine art and classic photojournalism will be drawn to RV Mitra's eclectic blend of portraiture, fashion, and reportage. It was the chance to photograph people and tell their stories that drew RV to weddings. "Weddings weave together two lives that come from different backgrounds, different pasts and different experiences. When the bride and groom come together because of love for each other, it opens up a whole plethora of stories to capture," he mused.
ADVERTISEMENT - CONTINUE READING BELOW
Browse through his portfolio and you will get a strong sense of what he is about: a highly-driven photographer who passionately strives to produce original works, and a masterful light scribe whose work behind the lens is enriched by a background in both studio photography and photojournalism. He speaks proudly of having been trained by the best, saying "I served as an apprentice for Lito Sy, and attended classes from the Asian masters CM Leung and Keda Feng. I was also a student of Charles Harbutt of Magnum magazine." Recently, RV received 1st prize honors in the Wedding Category of the print competition of Wedding and Portrait Photographers of Asia (WPPA), Philippine Chapter.
And yet, beneath all the glitz of awards and underneath the gloss of his works, RV's photos capture stories. "There has to be a story behind each photograph in such a way that when a couple looks at their photos 20 years from now, they will say, 'Oh I remember how I felt at that moment.'" he shares. Indeed, each of his photos are inspired by the urge to freeze the most important events that unfold in a wedding: the way a groom looks at his bride marching down the aisle, the moments of love between a mother and her daughter as she prepares for her big day, the bonding between family and friends. But he goes beyond merely photographing these instances--applying a fresh and edgy aesthetic, he uses light to frame his subjects' faces and he takes advantage of the surroundings to portray his clients metaphorically, immortalizing them in images both artful and timeless.
ADVERTISEMENT - CONTINUE READING BELOW
Recommended Videos
Comments
Load More Stories