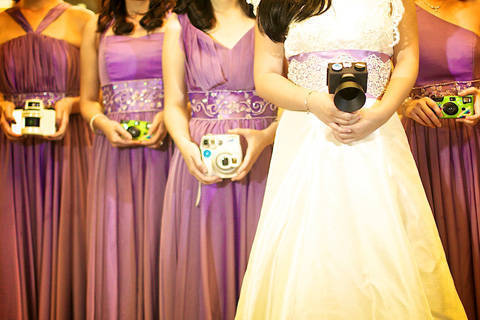 Only a year and a half has passed since their first official wedding shoot, and already Team RedSheep has made a name for themselves in the wedding industry. In a short span of time, the team--hailed as "The Ministry of Wedding Eye Candy"--has proven that they're a force to reckon with.
January of 2009 marked the first official wedding covered by Team RedSheep, but hobbyist photographer Guj Tungpalan had started taking photos during weddings of friends as early as 2008. At first, Guj was interested in capturing weddings from what he calls "a guest's-eye-view." Now, however, Guj pays special attention to details and candid moments whenever he photographs a wedding.
Team RedSheep's style might be described as photojournalistic and contemporary, and most of their photos are high-contrast and have a similar feel to lomographic photos. While they have a signature aesthetic, the team isn't afraid to step out of their comfort zone and try out new shots. After all, Team RedSheep prioritizes the couple's style and preferences, so each shoot can be given a different look. Guj says, "The very essence of our photography is bringing out the photos that truly portray the intricacies of our client's personalities. We don't believe in one-size-fits-all treatments."
In order to shoot the best photos, Team RedSheep establishes rapport with each couple. Getting to know the couple is the team's first step for preparing for a shoot. "Chemistry is important and our bonding with the couple usually happens during engagement shoots," shares Guj. "It's more challenging to shoot a couple if we only meet them during their wedding. For us, chemistry and knowing what the couple really wants is very important. We make it a point that we know what their no-no's are as well."
ADVERTISEMENT - CONTINUE READING BELOW
Currently, Team RedSheep consists of seven photographers and four teams: Red Sheep Photo+Cinema, headed by Guj Tungpalan and Team RedSheep; Really Awesome Weddings (RAW) by Puy and Chie Talde; MyPhotato: The Funky Side of Red Sheep by Michael and Joey Laquindanum; the fourth team, formed recently, is a film and Lomography wedding group called Lomostar, headed by Bonbon Santos. While Team RedSheep already offers a wide range of photographic styles, the Ministry of Wedding Eye Candy is brewing up something new: they'll be coming up with another new team soon, and they're looking forward to forming more groups to provide a broader creative palette in the future.
To learn more about Team RedSheep, click here.
Comments
Load More Stories