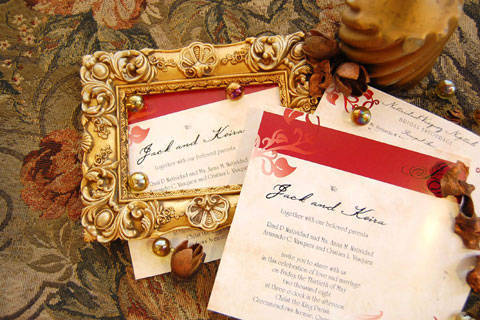 Not many people have the chance to enjoy the company of their teenhood BFF long after high school. But this isn't the case for Ther and Charisse--the divas behind Print Divas--who are now brought even closer by their business.
Best friends since high school, Ther and Charisse decided to put their very different (almost opposite) talents together, and dive into the business of stationery and specialty printing. While some people would advise against putting up a business with a friend, the two went on to establish Print Divas in September of 2008. The word "diva", means "fine lady" in Italian, and these two fine ladies have joined forces to create stylish and unique invitations for all occasions, most especially weddings.
Almost two years after they started the venture, Ther and Charisse have proven the cynics wrong--they thrive in the business because their friendship can withstand major and minor hiccups. Artistic Ther takes care of the graphics and design side, while business-minded Charisse is in charge of the business and marketing side.
ADVERTISEMENT - CONTINUE READING BELOW
Their chic invitations range from basic to non-traditional and custom-made unique wedding invitations. It seems that their imagination knows no bounds when it comes to designing invitations--they've done ones in the form of a MERALCO bill, an election voter's ballot, boarding passes, and movie tickets! Even their invitation envelopes come in different forms like pocket envelopes or boxes. They usually need a six-month notice prior to the event to allow enough time for the production and distribution of the invites.
While the divas know very well what they're doing, they make it a point to collaborate with the client. "We sit down with the couple and ask them what their ideas are. We then help formulate the design, and execute their ideas," they say. It's important for Ther and Charisse to craft products that please the client, and reflect their inner diva as well.
For more information about Print Divas, check their contact information here .
ADVERTISEMENT - CONTINUE READING BELOW
Photos courtesy of Print Divas

Comments
Load More Stories