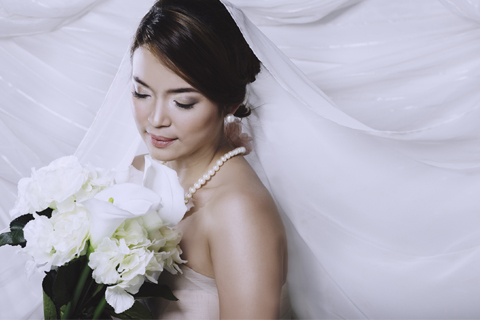 There's no better day to get a makeover than on your wedding day. You can make your groom fall in love with you all over again by looking breathtakingly gorgeous as you walk down the aisle.
Nouvelle Salon is a one-stop beauty salon that delivers impressive makeovers to brides on their wedding day. Since its inception, it has been offering a long list of services, with each tailored to give brides a relaxing and gratifying experience. But their creme de la creme are their hair and makeup services, which--from their brides' testaments--are truly rewarding.
Julie Benamera, one of the pioneers of the brand, shares their vision for their enterprise. "Our vision is to be known not only as a high-quality and affordable full-service salon, but also as one of the companies to have the best hairstylists and makeup artists in the country," she shares. They aim to be a household name someday, and want to be known for their fine craftsmanship and friendly service. In line with this dream, Nouvelle Salon puts skill and grace in their practice by coming up with refined and timeless looks that photograph beautifully.
ADVERTISEMENT - CONTINUE READING BELOW
Their roster of highly experienced hair and makeup artists trains, teaches, and learns from one another to come up with a unified, signature style. They specialize in makeup, with a light and natural feel. Their looks are both radiant and long-lasting--perfect for a bride's most special day.
Nouvelle Salon is a power house team that's all about giving brides what they need and want on their big day. To ensure that they deliver their clients' requests, they communicate with their brides and study their preferred outputs. Julie relays, "We look for hairstyles and makeup pegs to suggest to them, or we ask them to send us a sample of the look they want. We also research on the latest makeup trends, and regularly attend workshops and advanced makeup classes to keep abreast of the new styles in our trade."
Comments
Load More Stories