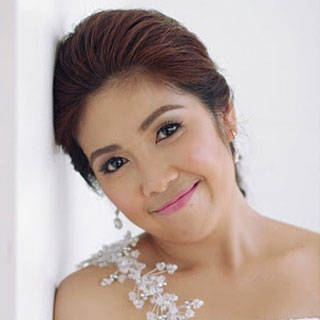 Every bride wants to look and feel her most beautiful on her wedding, and having the right makeup artist can help her achieve that. Makeup will simply enhance the natural glow the bride will have on her special day, and so the bride still has to look like herself. Among the makeup artists who prefer the natural look on brides is Monique Cruz, the woman behind Natural Glow Make Up.
Monique, who got into the wedding industry upon her wedding coordinator friend's encouragement, recognizes the important role she plays in making a bride beautiful for her special day. "I love weddings, and I want to be part of the bride's most important day of her life. The bride should feel that she is the most beautiful girl in the world on her big day. [I keep in mind that I'm] not just putting makeup on them--I'm there to listen to her and make her feel important," she shares.
Monique places importance in allowing the bride's beauty to shine through. She says, "I prefer a natural look that [lets the bride] glow from within. [However, I keep in mind that] there's still a part of the face that needs to be defined to look good on photos. I can also do dramatic looks especially for evening weddings."
While Monique knows what looks will enhance her client's beauty, she also makes sure that the client is comfortable with her look. She shares, "I always ask my client if she is used to putting on makeup. From there, I would know how to address her needs. I would also ask about their skin types, and how their skin reacts to makeup. I also ask what hairstyle and makeup they prefer."
ADVERTISEMENT - CONTINUE READING BELOW
Three factors help Monique create elegant looks for brides. "The makeup should be clean, long lasting, and looks nice in photos," she shares. She also knows that the process--and not just the output--should be given attention. "Makeup preparation should be stress free--the bride should feel relaxed, happy, and worry free," Monique adds.
Monique's looks are timeless, and she makes it a point to update her skills. "I browse bridal magazines to check what's new. I check the Internet to see how other makeup artists how they do makeup," Monique says. By constantly upping her game, Monique creates fresh and classic looks that would look great in photos even years after the wedding.
To learn more about Natural Glow Makeup by Monique Cruz, click here.

Comments
Load More Stories