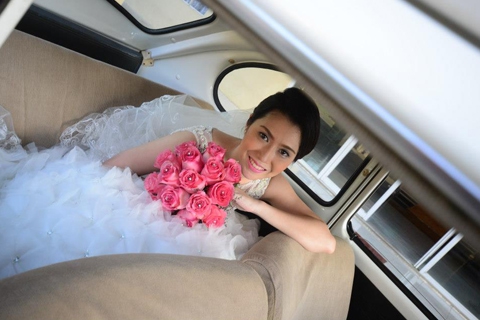 On her wedding day, a bride exudes a natural glow that reflects the love and bliss she feels--and it is the wedding makeup artist's job is to highlight the bride's radiant beauty. In order to fulfill such an important task, a wedding makeup artist should also form a special bond with her client. Doing just that allows Muriel Uy of MURI Hi-Def Make Up & Hair Studio to truly understand the look that best suits the bride on the big day.
"For me, the bride and her make up will always be special. It's an experience when I get to form a special bond with the bride and the groom because understanding them on a deeper level gives me an insight on how to style them," shares Muri.
Having been in the industry for four years, Muri's engagement with cosmetics was born out of her love for colors and drawings. She underwent professional makeup training under HD Academy, and then ventured into the wedding industry.
ADVERTISEMENT - CONTINUE READING BELOW
CONTINUE READING BELOW
Recommended Videos
Muri's training has given her the know-how in choosing different looks to highlight a bride's features. When coming up with a look for her brides, Muri believes that it should be a perfect mix of what the bride wants and the makeup style and technique that fits the bride. Muri favors elegant natural-looking makeup for brides, but remains open to more dramatic bridal looks, such as one with smoky neutral eye makeup.
Muri keeps her skills and style updated by being on the look out for the latest hair and makeup trends that come out in runway shows, magazines, and makeup schools. Equipped with her artistic background, cosmetic expertise, and personalized customer service, Muri makes MURI Hi-Defintion Make Up & Hair Studio a fitting choice for brides.
Click here to get in touch with MURI Hi-Def Make Up & Hair Studio.

Comments
Load More Stories