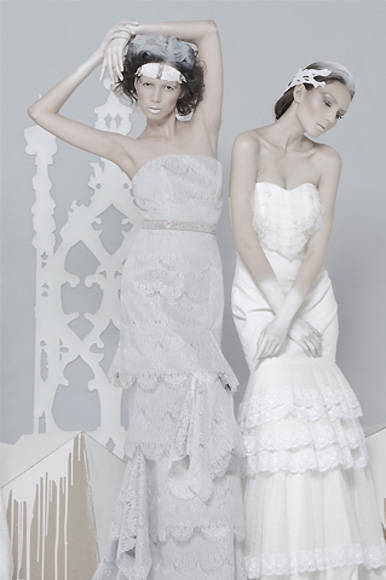 Most modern brides dream of wearing a couture wedding gown on their big day, but some are discouraged from pursuing such creations because of the steep prices. Realizing that a lot of stylish brides want to take the practical route, designer Mitzi Quilendrino decided to offer women with affordable options through Mitzi Q. Bridal Pret-A-Porter.
With ready-to-wear gowns at PhP25,000 to PhP35,000, Mitzi Q. Bridal Pret-A-Porter offers the Filipina bride exquisitely crafted gowns at competitive prices. Mitzi shares, "It's my advocacy to reach out to [the brides] by making designer couture gowns at ready-to-wear prices, so they get more value for their well-earned money, and can allocate their savings to other anticipated costs--like maybe their honeymoon. What I offer brides now are real options of original designer gowns they can very well [be proud of wearing]."
The gown designs range from classic to modern, giving brides a wide variety of options. Because Mitzi realizes that a gown's uniqueness is a huge factor for local brides, the ready-to-wear gowns come in one piece per size--this means that the exclusivity factor is still present in her collections. She can also alter the gowns to fit the bride better, and customize pieces with beading or embroidery, but if a bride would really rather follow the traditional route for gowns, Mitzi can create made-to-order pieces for them. Moreover, each gown comes with a veil, a secondary veil, two pillows, a cord and garter, and such add-ons allow the bride to get great value for her money.

ADVERTISEMENT - CONTINUE READING BELOW
CONTINUE READING BELOW
Recommended Videos
Each bride is given VIP treatment at Mitzi's shop. Mitzi puts great importance in getting to know the bride better, so she can make appropriate suggestions. "The first order of any bride-to-be's visit is a discussion of the theme for their wedding and how she envisions herself on the big day," Mitzi says. After asking the bride a series of questions, Mitzi and her team prepares gowns for fitting based on the client's personality and body type.
While this is unorthodox for most brides (as brides might expect to have their fitting done several months after their initial consultation with the designer), Mitzi elaborates on a major advantage with her prêt-a-porter pieces. She says, "I am helping ease off any undue stress on would-be brides by eliminating worries on how the gown will turn out. [Instead of basing their decisions on the] designer's initial sketches, they can fit the gowns instead and make better informed decisions. Nothing beats fitting the actual gowns and having to choose from them. It's my way of empowering the brides-to- be."
ADVERTISEMENT - CONTINUE READING BELOW
To know more about Mitzi Q. Bridal Pret-a-Porter, click here.

Comments
Load More Stories