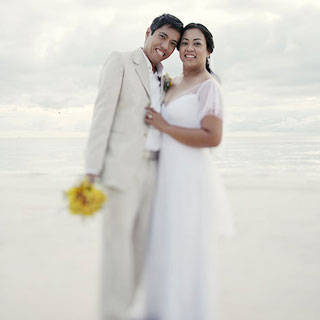 The old saying "two heads are better than one" makes perfect sense for wedding photographers Mimi Abesamis and Karl de Leon of Fotogra Weddings, Inc. Being a married couple themselves, they are able to bring "a couple's perspective" in the photos they shoot, making their work real and heartfelt. "We can finish each others sentences. When [we're] shooting, we are already thinking what the other one is thinking," they narrate. Karl usually works with the technical aspects of photography, while Mimi adds a feminine touch as she gets creative with the details.
Mimi and Karl started out with Peyups.com, a website for students and alumni of the University of the Philippines. In 2003, they bought a DSLR camera to cover UP's UAAP games, and to shoot picturesque landscapes within the UP campus. Little by little, Mimi and Karl started buying photography equipment--eventually, they decided to get into the photography business.
ADVERTISEMENT - CONTINUE READING BELOW
At first, they assisted other wedding photographers, but later on, they covered weddings on their own. "Weddings are such a joy to document because everybody--from the couple to their families and guests--is really happy to be part of and be witness to such an occasion," the couple shares.

Mimi and Karl take a photojournalistic approach by capturing the connection between a couple, which usually shows during unexpected moments. Their background in sports photography helps them shoot spontaneous moments easily. "Anticipating what will happen next is an exciting part of our work," says the couple. They also pay particular attention to the wedding details; they add, "Wedding details tell their own story of the wedding. Brides nowadays take a considerable amount of time and money to make their details unique, and we'd like to document that for them."
For Mimi and Karl, it's important to capture all the beautiful aspects of a wedding. Preparing for a wedding shoot entails checking out the ceremony and reception venues before the event--this is so they find nice vantage points for their coverage. Of course, they also have to ensure that all their equipment are working perfectly. Mimi and Karl are extremely happy doing what they do, they will be launching the services of their second team, who have been training under them for the past two years.
ADVERTISEMENT - CONTINUE READING BELOW
Couples should book Mimi and Karl's services at least six months before the wedding. However, their busiest months are December and January; couples getting married in these months should book a year in advance. For more information on Mimi + Karl, click here .
To see some of Mimi and Karl's work, check out our gallery below.
Photo source-- Flashbox: Jake Verzosa
                     Photo gallery: Mimi+Karl

Comments
Load More Stories