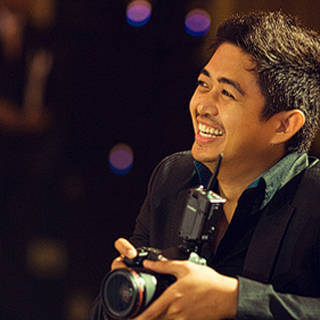 A wedding marks the beginning of a life shared with someone dear. For Oly Ruiz of Metro Photo, his wedding day was that and then some--it was the day that inspired him to embark on a new career path.
Oly was already into photography then--he was doing travel photography. However, on his wedding day, he had a newfound appreciation for wedding photography. Oly then decided to steer his love the art in a new direction; he attended a workshop under Dino Lara and learned about the challenges of wedding photography. "It is more [about] your art than what equipment you actually possess," he says of the craft.
In September 2007, he covered his first wedding as an official wedding photographer-and the rest is history. Oly turned his great passion for photography into a flourishing business; he now heads a pool of talented wedding photographers collectively known as Metro Photo.
With a style best described as contemporary, Metro Photo's modern approach to wedding photography aims to capture important moments in new and creative ways. Oly shares, "I'm there for the details and the moments. Things that are unique to the couple and events that most photographers will miss are those that I look for. Weddings will always be one of the most challenging disciplines in photography, although it is also the most rewarding."
ADVERTISEMENT - CONTINUE READING BELOW
Today, Metro Photo has made quite a name in the field of wedding photography. Not only do they cover weddings and hold engagement shoots here in the Philippines, but they get bookings abroad as well. Shooting destination weddings was a natural progression for Oly, as such sessions fuse his skills in travel and wedding photography.
It's understandable why couples need to book Metro Photo 15 months prior to the wedding-the team is very particular about getting each shoot's details right. Every session entails much preparation. Oly and his team prepare an "e-session pack" which contains all the specifications for the concept, wardrobe, and poses for the shoot. The results of their immense effort are well worth it, as each shoot produces amazing photos.
With Metro Photo's attention to detail and steady rise among the pool of professional wedding photographers, Oly sees the team's potential in getting worldwide recognition in the future.
ADVERTISEMENT - CONTINUE READING BELOW
For more information on Metro Photo, click here .
Check out the gallery below to see some Metro Photo weddings.
Photo source: Metro Photo
Comments
Load More Stories