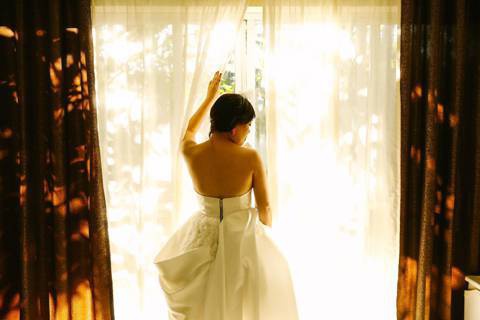 Mara Chua's bridal gown portfolio speaks of a background enriched by runway fashion-- her billowing balloon tulle ballgown is accentuated with a femme fatale-inspired bustier in Russian baroque lace, a sculptured bodice is complemented by a textured furry chiffon skirt, and an elegant bandage dress is paired with a dainty ruffled skirt. For this avant-garde designer, there is no one standard bridal look just as there's no cookie-cutter type of bride. With elegant silhouettes that mix classic with sexy and traditional with fashion forward, every gown Mara creates tries to capture the bride it is made for.
Unique looks for the Bride
"I'm not afraid to use elements that you wouldn't necessarily associate with bridal wear, be it hardware, daywear elements or sublimation printing," says Mara. This same daringness in fashion design has brought her a steady stream of celebrity clients asking to pull out looks for the red carpet and editorial pages. When it comes to brides, Mara is a growing favorite among those who go for original looks, the ones who will favor the unique and unusual over the safe and conventional.
ADVERTISEMENT - CONTINUE READING BELOW
Speaking more about her process, Mara emphasizes the importance of her online pre-consultation meeting. "I ask brides to detail their personalities and what their favorite things are to get to know them better. Also, I recently introduced a mini questionnaire as part of my pre-consultation. Given the information that I gathered, I prepare and research before meeting my bride."
CONTINUE READING BELOW
Recommended Videos
Mara cites that after agreeing on the gown's design with the bride, four to six months is an ideal pace for crafting the ensemble. She prefers more time to work on the details and perfect the fit given her gowns' often intricate patterns and materials. 
Customized bridal line for today's brides

Mara's plans to further bolster her bespoke bridal line are in the works. She's currently researching new couture techniques and technologies along with building a growing local and international client base. In two years' time, she hopes to accomplish one tailor-made challenge:  to release a somewhat ready-to-wear bridal line that will communicate both her design aesthetic and her brides' distinctive fashion statements.
ADVERTISEMENT - CONTINUE READING BELOW
Click here to set an appointment with Mara Chua.

Comments
Load More Stories