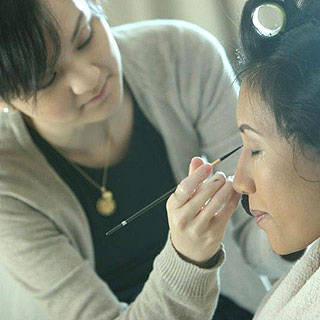 While the make up artist is tasked to doll up the bride on her wedding day, the undertaking also results to something more: making the bride feel beautiful, too. Make up artist Carmie Locsin understands that the wedding is among the most important moments in a woman's life, which is why she makes each look special.
Carmie shares, "In my opinion, a bride should look and feel that she is at her most beautiful during her wedding day. She should have enough make up on to withstand tears, perspiration and camera flashes but at the same time, everyone should still be able to recognize her.  For me, a bride should be able to look her wedding photos 50 years from now, and say that she looked amazing." She adds, "When doing bridal make up, I want her to look good in pictures and in real life. I try to make sure that her make up will look great until the last guest leaves."
Carmie is spot-on with describing the ideal bridal make up: "radiant skin, tastefully emphasized features and classic colors that suit her hair color, complexion and personality." Her training from Franck Provost Studio (now Center Aesthetic Studies) in Manila and Blanche Macdonald Centre in Vancouver has allowed her to hone her craft. Since 2009, Carmie has been doing make up for events, print, and television, but admits that doing weddings gives her a different feeling. "I love fashion make up and special effects, but I think that beauty make up will always be my favorite. There is something very rewarding in seeing a bride walking down the aisle looking like a princess and knowing that you helped her look her best! And I won't lie, I love weddings!" she exclaims.
ADVERTISEMENT - CONTINUE READING BELOW
While Carmie's expertise helps her determine the perfect look for the bride, she also consults the client to make sure they're both happy with the outcome. "During a trial session with a prospective bride, we go through her skin type, skin care routine and her everyday make up routine. With those things in mind, I can adjust the type of make up I will use that will suit her and know how much make up she is comfortable with," she narrates. Moreover, Carmie provides options to the bride. She shares, "We do at least two looks, and then she picks out the one that she loves."

Carmie surely has won the hearts of her clients, but she doesn't forget to keep challenging herself. She says, "Since make up is my passion, I always feel the need to learn and better myself at my craft. I read make up books, magazines, and websites to keep myself updated. And of course, I experiment and practice!"
To see some of the looks Carmie has done for her clients, check out the gallery below.

Comments
Load More Stories