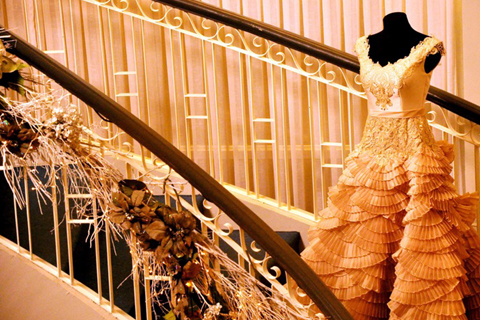 It's hard to tear off one's gaze from Mak Tumang's bridal gowns. As theatrically romantic as they are sophisticated, his creations are weaved with fantasy, with magic spun through the dramatic lacework or embedded alongside the dazzling beading.
With skills honed by various theater productions and degrees in production design and interior design, Mak first dabbled in fashion through the encouragement of his fashion designer friends. He started making a name for himself when he landed a semi-finalist spot in the Philippine Fashion Design Competition in 2007. A steadily growing client base soon followed and his fashion oeuvre became bigger, from runway to Filipiniana dresses to bridal gowns.
Describing his favorite bridal look as "queenly, grand, and opulent," Mak draws inspiration from a number of sources, among those are his knowledge of architecture from different periods and his exposure to historical costumes.
As a gown designer, Mak sets out to transform each bride into a queen on her wedding day. Beginning projects with a collaborative approach, Mak first asks brides-to-be to show pegs for him to know where to start his design. Then, after studying their given requirements and request, he sketches one or two design studies of their dream wedding gown, while still infusing his own style.
CONTINUE READING BELOW
Recommended Videos
ADVERTISEMENT - CONTINUE READING BELOW
At the production stage, Mak draws on his ability to work with different materials and textures--this he blends with his expertise in corsetry construction. The result is usually the best custom-fitted gown brides have ever tried on in the fabric of their choice.
From the world of theater where magic and wizardry are to be expected, Mak shifts to the stage of once-in-a-lifetime "I do's," bringing with him the skill of making fantasies happen.
Comments
Load More Stories