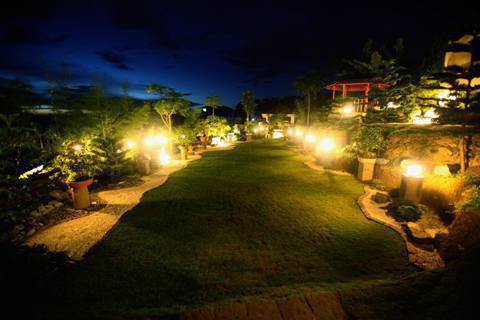 Tagaytay is an excellent venue for destination weddings not only because it's situated right outside Metro Manila, but also because of its cool, crisp weather that's perfect for outdoor festivities.
Le Jardin Rosella Events Place in Tagaytay opens its expansive grounds to marrying couples looking to tie the knot in a whimsical space. It boasts lush greens, stellar amenities, and a breathtaking view of the Tagaytay skyline.
This hideaway, only an hour's drive from the Metro, has five patios, each with its own unique garden theme. According to Francesca Rosella, owner of Le Jardin Rosella, "We offer a panorama, which is quintessence of beauty and enchantment. The ambient mood, brought about by the garden scenes upon entering each beautiful trellis, takes one away from the pressures of the city."
Aside from presenting dreamy reception spaces, Le Jardin Rosella Events Place offers wedding packages tailored to suit a variety of budgets. They have partnered with seasoned caterers, such as Josiah's Catering, CVJ Catering, Hizon's Catering, K. by Cunanan, Juan Carlo the Caterer, and Town's Delight Catering, to make every celebration a feast for the senses.
ADVERTISEMENT - CONTINUE READING BELOW
Through Le Jardin Rosella Events Place's responsive correspondents, booking this venue is also easy. Francesca shares, "Once the couple's chosen date is available, we ask them for payment of the registration fee, and we'd block off this day for them. If the clients confirm their bookings through email, we will send them all the details they need to know through email or a phone call." At Le Jardin Rosella Events Place, couples don't have to worry about the little details of their big day, as the team guarantees to give excellent service and hospitality.
Le Jardin Rosella Events Place is an apt venue for wedding rites, but there are also churches nearby in case the couple is to have a church having. Located near this venue are several churches, such as Our Lady of Lourdes Parish, Chapel on the Hill, Caleruega Church, and Ina ng Laging Saklolo Church.
ADVERTISEMENT - CONTINUE READING BELOW
With its accessible location, whimsical venues, and excellent service from the staff, this prime location is truly a fitting venue for grand celebrations.
For more information on Le Jardin Rosella Events Place, click here.
Comments
Load More Stories