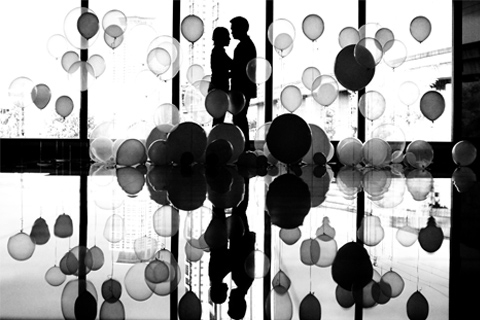 A wedding is always enveloped with a myriad of emotions. When a woman walks down the aisle to meet the love of her life standing by the altar, there is an overwhelming surge of sadness, bliss, and excitement that all equate to the presence of love.
For wedding photographer Larry Leong, his primary role is to not only showcase the mix of emotions, but also to highlight how such an event is ultimately a celebration of love, life, and laughter. As a wedding photographer, Larry always feels honored to take part in other people's special day, and see families and friends reunite and have fun on a momentous event.
Larry sees that every wedding reveals different personalities and feelings. To showcase the variety of emotions, he practices a versatile shooting style that allows his clients to showcase who they really are. Larry calls his style as "funny-romantic." "If the bride wants a [dramatic] fashion shot while the groom wants a wacky or funny shot, I want [to deliver what] both parties are comfortable in. I shoot them in [whatever] style they prefer," shares Larry.
Aside from having a dynamic style, Larry also applies a systematic approach when it comes to covering weddings and prenuptial shoots. An architect on weekdays and a wedding photographer on weekends, Larry presents marrying couples with one-of-a-kind photography. Larry explains, "Having a background on architecture and design, I have an understanding of space and how shapes fit and flow in connection with the pose and where the couple should stand." Such an approach allows Larry to create wedding photos that are vibrant, fun, clean, and creative.
ADVERTISEMENT - CONTINUE READING BELOW
Moreover, Larry uses of his architectural background in giving his clients quality customer service. "My approach is like doing a house. You need to study the owner or client. [In both architecture and] photography, I require my clients to meet with me before shooting their wedding or prenuptial shoot. It is a way for me to study them," Larry says. For him, every shoot is the product of the teamwork between him and the couple, which is why he encourages his clients share their ideas as well.
With his extensive coverage services and personalized customer service, Larry gifts his couples wedding photos that may be likened to a well-built house--worth-investing on and will stand the test of time.
Click here to get in touch with Larry Leong Photography.
Comments
Load More Stories