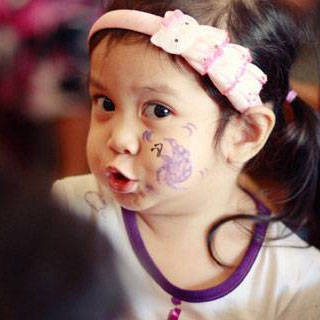 After having precious photos taken at your wedding, you surely want the tradition of capturing wonderful images to continue. As you start a family, it's a good idea to start filling a scrapbook of photos that celebrate your and your husband's lives together. Eventually, when kids come into your family, you also want to preserve the nice memories in photographs--and Lacto Photo is among the photographers who can do that for you.
Lacto Photo, which was launched in May 2011, specializes in photographing kids. The group behind MyPhotato, which focuses on wedding photography, found that it was a natural progression to keep taking photographs for their clients even after they get married. As these clients start families, the Lacto Photo team takes photos of the special milestones.
The group prides itself in producing photos that kids would proudly show others when they grow up. Shares photographer Kel Laquindanum, "We were kids once, and somehow, we wish there were better pictures of us when we were still young--photos that we can bring to class and not hide from our classmates." By taking well-composed photos, the Lacto Photo team makes the fun memories even more precious.

Surely, photographing kids is quite different from photographing adults. Kel shares that they exert extra effort in connecting with the young subjects. "Lacto Photographers are trained on how to approach and build rapport with kids during different milestones. [We focus] more on studying and enhancing our knowledge and skills in interacting and having fun with kids," he says.
ADVERTISEMENT - CONTINUE READING BELOW
Kids are always candid and carefree subjects, and the Lacto Photo team constantly works on their craft to keep up. The group continues to dream big for their future. "There will be kids photography studios everywhere, and kiddie parties will never be the same again. Lacto Photo will be the pioneer and will be the leading brand," says Kel.
Comments
Load More Stories