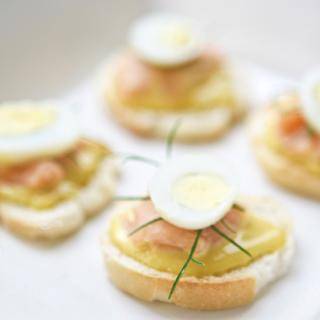 Combining business and pleasure, Kaye Cunanan of K. by Cunanan Catering brings comfort food to a whole new level. Having inherited five years ago a 40-year-old catering business from her grandmother (of F. Cunanan Catering), Kaye turns out a menu that presents both classic dishes and fresh creations that fuse comfort and creativity. Not your traditional caterer, K. by Cunanan Catering not only gives importance to food that tastes original, but also to striking a memorable atmosphere that reflects each couple's personal style and taste.            
Kaye stresses the dynamic combination of a good meal and pleasant surroundings. "Food and ambience go hand in hand. You can wow a crowd with decor when they enter the reception doors. But guests always remember if the food was good or bad," shares Kaye.
Catering for weddings, as opposed to corporate catering, makes the experience more personal and creative for Kaye. This setup makes business feel less like work.  She says, "Each experience with a client is unique. I think that's what makes my job so interesting. I get to meet different personalities, each with a creative mind of their own, so I learn and get ideas from them, too!"
ADVERTISEMENT - CONTINUE READING BELOW
A lot of preparation goes into catering for a wedding, but before everything is executed, a menu has to be planned. K. by Cunanan Catering provides set menus; these make it easier for couples to choose what they want to serve at their wedding. However, most of the time, the menus are customized to fit a certain profile, budget and theme.
Whether couples choose to tweak their meals or to select from a set menu, K. by Cunanan Catering always delivers something that's out of the ordinary. "Giving clients something new no matter how old we get, [and] keeping the service personalized no matter how big we get" are what Kaye envisions for the company in the future. Indeed, Kaye's impeccable taste and attention to detail are the elements that keep the family legacy alive.
To ensure a slot with K. by Cunanan Catering, book a year in advance.  For more information on K. by Cunanan Catering, click here .
ADVERTISEMENT - CONTINUE READING BELOW
Wedding setup photos of Caliber and Paula King
Photos courtesy of K. by Cunanan Catering

Comments
Load More Stories