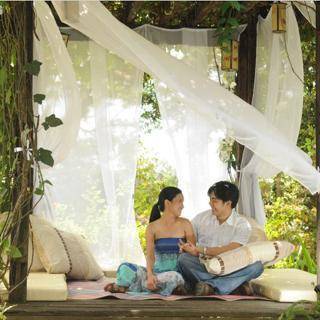 The Nepomucenos definitely know a thing or two about celebrating Pinoy reunions in style. The clan celebrated their get-togethers in what is now known as Jardin de Miramar, a lush three-hectare property found on the hills of Antipolo.
The serene events venue used to be a weekend getaway spot for the Nepomuceno clan, says Edna Nepomuceno-Del Rosario, owner of Jardin de Miramar. For many years, the family had been going to Antipolo to unwind and spend quality time with each other. Eventually, the stewardship of the lot was passed on to Edna, and her entrepreneurial instincts came into play.  Since maintaining such a vast land can be costly, Edna decided to develop their home away from home into an events venue where other families can experience what her family enjoyed doing every weekend.
ADVERTISEMENT - CONTINUE READING BELOW
As an ardent lover of art and of nature, Edna put her two passions together to create a one-of-a-kind venue. She commissioned locally and internationally acclaimed artists, sculptors, architects and landscapers to create a warm environment for Jardin de Miramar's guests. Edna's and the artists' efforts paid off, as  Jardin de Miramar became an inviting recreational and cultural spot.
With a wide expanse of land divided into different themed areas, Jardin de Miramar is the ultimate venue for big and special gatherings like weddings. One of its prime areas is Paradiso, a multi-level garden landscaped by the Cultural Center of the Philippines (CCP) 1990 Artist Awardee, Tony Leano. Guests can enjoy the best of what Jardin de Miramar has to offer with Paradiso's majestic royal palms and waterfalls.
Jardin de Miramar also has a Filipiniana-inspired venue set in a mini-forest called Ylang-Ylang. Sawali and bamboo poles surround the area, lending a rustic tranquil feel to the place-the ambiance may remind guests of the countryside. On the other hand, Estacion, an open expanse of grassy area right next to a palm forest, can accommodate larger crowds.
ADVERTISEMENT - CONTINUE READING BELOW
The Pergola is perhaps Jardin de Miramar's most romantic area; the gazebo provides a dreamy backdrop for garden weddings. Another of Jardin de Miramar's function areas is Intramuros, which-with its old adobe brick walls-gives guests the old world charm of Manila's famous walled city. At its center is a quaint pond with a fountain-a charming touch to an outdoor venue.
While Jardin de Miramar offers a handful of outdoor spaces for events, they also have an air-conditioned indoor venue called the Plaza. Beside this elegant venue is a courtyard where guests are treated to a vista of trellises and life-size sculptures of children playing in the rain created by international artist and 2006 Ten Outstanding Young Men (TOYM) Awardee Michael Cacnio.
Also among the function areas within Jardin de Miramar is Sevilla, a theatrical venue that houses a stage, a bridal suite and a dressing room. Painted on Sevilla's walls are mural paintings of gardens-these bring in the beauty of Jardin de Miramar's gardens. Another area is the Galera, which has a playground surrounding a big old fishing boat dubbed as "Noah's Ark."
ADVERTISEMENT - CONTINUE READING BELOW
Jardin de Miramar's theme areas may vary, but if there's one thing these spots have in common, it's that each zone is homey and cozy. The warm and inviting function areas provide guests with the perfect ambiance for creating great memories with family and friends.
To see more photos and to learn more about Jardin de Miramar, see their supplier listing in the directory.

Comments
Load More Stories