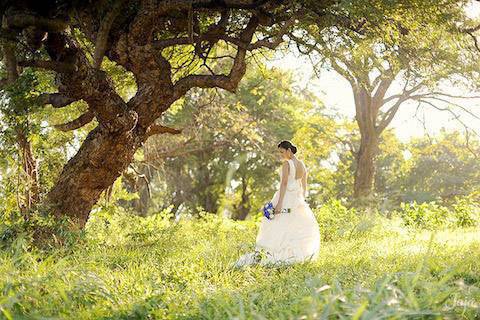 A wedding is a milestone in the lives of two people in love. Moving emotions, the presence of family and friends, and personalized details are the elements that light up such a special event, making it worth taking photos of.
For wedding photographer Jaja Samaniego, it is capturing such precious life moments that has propelled her in entering the local wedding scene. "There are so many emotions involved. I immediately fell in love with weddings and being a girl, started dreaming up my own. It is definitely a dream come true to be a part of such a sacred event," shares Jaja. She adds, "I love the details. Other people don't know this but when you work behind the scenes, you witness the amount of attention put in every minute detail of the wedding. It's truly inspiring. I think that is what makes [weddings] special and apart from the rest."
ADVERTISEMENT - CONTINUE READING BELOW
Jaja first entered the wedding scene as an apprentice for another wedding photography company. Surrounded with talented and inspiring people, Jaja then pushed herself to hone her skills, until she eventually developed her own photography style. Now, Jaja's photos are known for their vibrancy and natural look. "I always make it a point to bring a touch of nature to my pictures. I especially love sunlight--it brings crisp, vibrant and magical photos," Jaja explains. Requiring minimal editing, her photos exhibit her light, feminine, and friendly personality. When she had mastered her trademark style, Jaja then built her own brand, which she envisions as professional and personalized at the same time.
While Jaja shows professionalism when working with her clients, she also makes it a point to establish a friendly rapport. Jaja shares, "I think the couples feel a sense of comfort when they work with me. I keep a very fun and friendly relationship with my clients during shoots, so they are never intimidated and they always feel comfortable. This attitude helps the couple photograph more naturally."
ADVERTISEMENT - CONTINUE READING BELOW
With her unique style and personalized services, Jaja presents couples with a refreshing way to celebrate and remember their big day.
Click here to see sample wedding photos by Jaja Lifestyle Photography.

Comments
Load More Stories