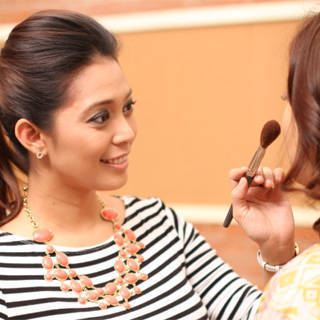 There's one sure thing that tops every bride's checklist--that she looks radiant and beautiful on her wedding day. Whether they admit it or not, most brides want to look like they've stepped out of a TV commercial or a bridal magazine. There's only so much that a good night's sleep and great skincare can do, so every bride-to-be enlists the services of a makeup artist.
With hundreds of makeup artists mushrooming all over the Philippines, there is one name that's gaining buzz, straight from the mouths of satisfied clients--Jasmine Mendiola.
As a professional freelance makeup artist, Jasmine learned the fundamentals of skin, light and formulations of makeup from Manila's finest artists. She's honed her craft for the past six years through various stints for magazines, commercials, events, plays and fashion shows. She pays careful attention to quality by using top-of-the-line products from the best brands in the market.
"I really loved the natural way [she] made me up. I still looked like me and not a made-up version of me. I'm so glad that out of all those names in all those wedding brochures, I picked Jasmine Mendiola. [She has] a rare gift of bringing out the inner beauty in people," says Kath Quisumbing, one of the many satisfied clients of Jasmine.
ADVERTISEMENT - CONTINUE READING BELOW
"She will ask you about your wedding's theme/feel/vibe/motif and will incorporate that with your makeup in a way that will suit your skin and face," says Faye Linsangan, one of Jazz's recent clients. "I didn't even know I'd be able to pull off the nude bronze look, but I was able to because of her! She made me so pretty that day, and I really owe it to her!"
Although she is best known for her work as a bridal makeup artist, Jasmine's flexibility and talent doesn't end there. She is also a writer, magazine editor, fashion stylist, celebrity stylist, style consultant and thespian. Her works are seen all over the media--from magazines to TV shows. Her flexibility and ability to understand the needs of her clients--from meticulous brides to detail-oriented editors and directors--make her a favorite in the industry.
"I love working with Jazz because she can do almost everything. I've booked her as a makeup artist, fashion stylist, consultant, and writer. She also makes a great resource person for my various lifestyle articles," says Kate Alvarez, editor of a local magazine.
To date, Jasmine has styled hundreds of magazine pages, commercials, events, and TV shows. She's jazzed up over a hundred beautiful brides for the most important day of their lives. And she's just getting warmed up.
To learn more and to book I Do Makeup by Jasmine Mendiola, click here.
Load More Stories