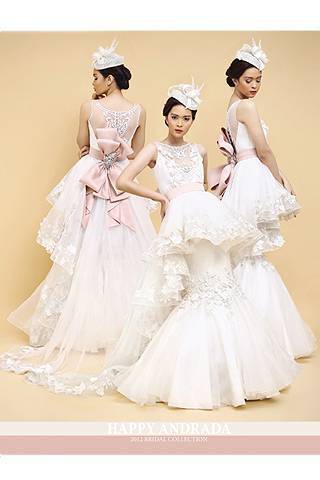 Francesca da Rimini once said, "Come dress yourself in love, let the journey begin." Love may be a recurring theme in weddings, but any bride would agree that to dress with only love on her most special day may quite not be enough. A bride's chosen wedding gown will make her feel extra special on the big day, but the journey to finding the perfect dress can be tedious, requiring time and effort from the bridal party. With this in mind, gown designers play an indispensable role as the bride's fashion partner--and designer Happy Andrada has taken this role to heart.
Happy first got into designing gowns when she was eighteen--she made her debutante gown quite special by designing it herself. Years later, fueled with much passion and hard work, Happy established her name in the local fashion industry. A "perennial show stopper" at Philippine Fashion Week, Happy has had over fifty shows since 2006. However, despite her sensational success, Happy never fails to connect with her clients. She said, "I like listening to clients, [hear] what they want, and [I share] my input," referring to her process in crafting breathtaking gowns. "I make sure that their body type flatters the gown that I design," she adds. With her hands-on service, Happy makes her brides feel and look good in her special creations.
ADVERTISEMENT - CONTINUE READING BELOW
CONTINUE READING BELOW
Recommended Videos
With her immense experience and fashion repertoire, Happy's clients are assured of top-notch creative service. "My bridal gowns have my signature style: detailed and carefully constructed," she shares. In describing her style, Happy admits that most of her creations are detailed, feminine, fresh, and romantic.
Happy's designs are refreshing, and her innovative approach has helped her win in various local and international competitions and conventions. The Miami International Fashion Week International Emerging Designer of the Year 2012, and 2nd Place and Favorite Design Award in the 3rd Asian Weddings and Design Competition held in Hong Kong, are just some of the honors under her belt. Also among Happy's achievements was collaborating with her sister to open F*ART Fashion ART, a hip boutique that sells haute couture outfits.
It is the combination of Happy's style sensibility and warmth that wins her clients over. With Happy's extensive experience, stellar reputation, and personalized service, finding the perfect gown becomes a precious experience for every bride.
ADVERTISEMENT - CONTINUE READING BELOW
Comments
Load More Stories