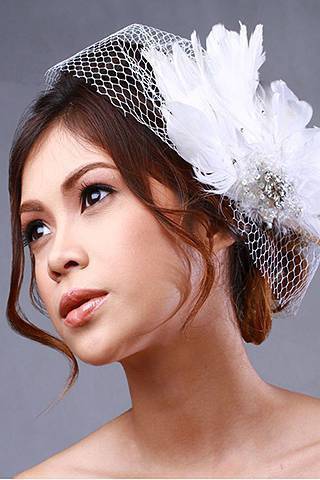 Every woman dreams of being so strikingly beautiful, that she turns heads and makes hearts skip a tune. Makeup artist Grace del Rosario helps brides achieve just that--encompassing beauty that they'll remember for years to come.
Being a model herself, Grace has learned firsthand what she knows about beauty. Her first teachers were the best artists in the industry and of course, experience. "I started out in the fashion and advertising industry in 2000 as an on-cam talent for various advertising campaigns, where I got my exposure to makeup from the industry's best artists during our television commercials and print shoots," said Grace.
To further hone her skills, Grace then enrolled in the Center for Aesthetic Studies to learn basic makeup artistry and hairstyling. Doing so enriched her knowledge, and helped propel her career. Eventually, Grace started her career as a makeup artist by working as an in-house makeup artist for a magazine. "It was experimental for me to join Playboy Philippines as one of their in-house makeup artists last year, but I found my calling when a friend asked me to do her makeup for her wedding. That's where I found my passion, upon seeing my clients' eyes light up when they see their transformation on my mirror. From then on, I decided to focus on weddings." Since then, Grace has been a main stay in the wedding industry as a makeup artist who can create memorable looks for brides with a stroke of her brush.
ADVERTISEMENT - CONTINUE READING BELOW
CONTINUE READING BELOW
Recommended Videos
While Grace has learned to be versatile and flexible in terms of styling and adapting to her clients' preference, she admits that she has a favorite look for brides. She says, "Natural beauty is the key to bridal makeup. Brides should look like the best version of themselves on the biggest day of their lives. My favorite look is clean and beautiful. I like brides to have neatly shaped brows, defined eye makeup to give focus on the eyes, contoured and highlighted cheeks to create the "blushing bride" effect, and brightly colored lips to give emphasis on their smile."
Through her hard work and perseverance, Grace has made a name for herself not only as a face of a brand, but she has also managed to become a brand of her own. With skills at par with the changing trends in the wedding industry, brides can only expect great things from the delightful and innovative makeup artist.  
ADVERTISEMENT - CONTINUE READING BELOW
Comments
Load More Stories