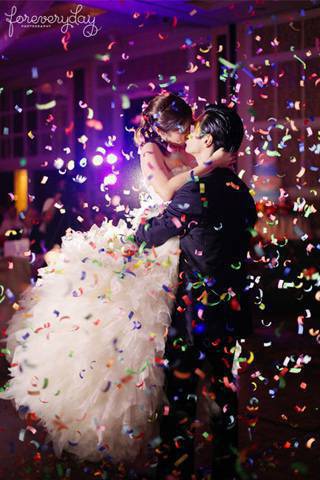 When beautiful colors, composition, lighting, textures, lines, and other elements come together in a photograph, the image can stir nostalgia in anyone who views the pictures.
Foreveryday Photography offers just that and more to marrying couples: professionally captured pictures that appeal not just to the eyes, but to the emotions as well.
Gail Bitoon, the person behind Foreveryday Photography, has a long-standing passion for photography. "I fell in love with photography at an early age--nine to be exact-and so I saved up my school allowance to buy my first camera," he shares.
Later on, Gail ventured into wedding photography--an interest that stemmed from the emotions he draws from couples getting married. Shares Gail, "The love that radiates from the bride and the groom, and from the people they chose to celebrate their day with, is what strikes me most about weddings. It's also so fulfilling to capture the fleeting moments, and turn them into timeless images that a couple can look back on years after their wedding."
ADVERTISEMENT - CONTINUE READING BELOW
Foreveryday Photography's style can be described as light, natural, and relaxed. Gail strives to capture moments in its most beautiful state, which is why timing has become an indispensable aspect of his craft.
Gail was trained by and continues to shoot for top international wedding and fashion photographer Pat Dy. By studying his works and the works of other professional photographers, Gail broadens his skills and learns new techniques. "I'm blessed to have been able to shoot with Pat Dy. As part of his team, I got to learn a lot from him and his experiences. To update my skill set, I also read books and blogs of photographers I look up to. I try to infuse my own style into new ones. It's a constant process of learning and re-learning," he says of what he does.
Gail's dream for Foreveryday Photography is simple: to bring inspiration through photographs. He says, "I want to see all my clients happy and over time, convert them to personal friends as well. I want Foreveryday Photography to be an instrument to glorify God, the supreme author of love, because weddings are, first and foremost, for His glory."
ADVERTISEMENT - CONTINUE READING BELOW
For more information on Foreveryday Photography, click here.
Comments
Load More Stories