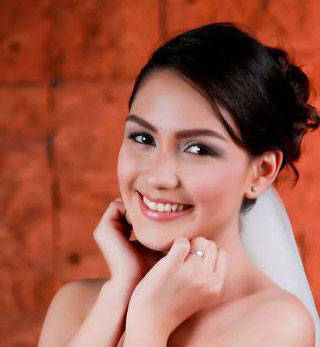 Of all the occasions in a woman's life, it is 0n her wedding day that she must look her best--from the arch of the eyebrow, the texture of the skin, and the color of the lips, everything must be in coordination. Thankfully, makeup artists like Edz Plotnikov leave no room for mistake in doing her craft. Carefully considering the satisfaction and happiness of her brides, she takes time to know her clients and establish a connection with them, exchanging ideas and suggestions to achieve a personalized bridal look.

It was in 2010 that Edz formally took up a course in Professional Makeup Artistry at La Salle International. The varied in-class instruction paired with hands-on activities and on-the-job training perfectly complemented her innate interest in make up and beauty products. Upon finishing school, her colorful career as a makeup artist began.

As a woman, Edz understands the significance of weddings, and this is exactly why she gives a hundred percent of her time, attention, and talent in bringing out the best in every bride--from the way she looks to the way she feels about herself. While she can play well with bolder colors, she favors natural and fresh inspirations, concealing minimal imperfections and gracefully highlighting features that make simple yet stunning looks.

ADVERTISEMENT - CONTINUE READING BELOW
Aside from that, Edz takes into account the details of the wedding: the venue, time, and overall theme of the event are all factors in coming up with a look. She shares that it's not enough to come up with a dolled-up face, but the makeup itself should fit well with the setting and mood.

While the process of consulting and brainstorming can be rocky at times, Edz prefers to see it at a different light and takes it as a challenge. She sees it as an opportunity to constantly grow and improve her craft.
To see photos of sample looks and learn more about Makeup by Edz Plotnikov, click here.

Comments
Load More Stories