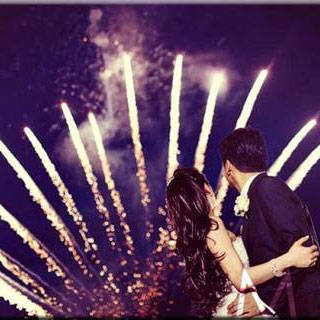 When you think of fireworks here in the Philippines, Dragon Fireworks Inc. is definitely the top brand that comes to mind. Being a pioneer in the local scene, it's no surprise that they have managed to make their own mark in the wedding industry as well.
From its humble beginnings in 1992, Dragon Fireworks started out with a one-hectare facility and the hope of catering to the Philippine market's growing demand for safe and world-class fireworks. Now, with over 300 employees, seven more hectares to their expanding facility, and an extensive line of products and services, Dragon Fireworks has become the go-to name for pyrotechnics for whatever occasion--including weddings. For them, their foray into the wedding industry was a natural, evolutionary step when more and more clients started requesting their professional services for their private functions.
Of course, like any start-up business, success did not happen overnight. They had several hurdles to overcome, one of the biggest being the Philippines Fireworks Law, which prevented them from importing fireworks. With the restriction, Dragon Fireworks had to make everything from scratch. Eventually, the challenge ended up working in their favor--with their ingeniousness, they became the only local fireworks manufacturer to be ISO certified in South East Asia and DTI certified according to the Philippine National Standards.  
ADVERTISEMENT - CONTINUE READING BELOW
CONTINUE READING BELOW
Recommended Videos
The company offers outdoor and indoor firework displays, pyromusicals, low fog, cryogenic blasters, fire writing, snow, flame and other special effects. They have recently added sky lanterns and professional confetti to the mix as well. Nowadays, Dragon Fireworks receive such a variety of requests, especially for weddings. Apart from the usual outdoor display, clients have also asked for burning text, spark fountains, exploding stage effects and colored flames. The company has also done their share of wedding proposals for clients who want colorful heart patterns shooting across the sky as they pop the question.
While Dragon Fireworks does not have services exclusively for weddings, they try their best to service any type of function and make their executions as memorable as possible. The company prides itself in being able to accommodate all types of customer requests, no matter how non-standard they may be. Morever, they keep pursuing new innovations to push their creativity and always offer something different to their clients. 
ADVERTISEMENT - CONTINUE READING BELOW
The company aims to stay true to their core vision: continue to deliver top-quality services to their clients and maintain Dragon Fireworks as the leading fireworks brand in the Philippines. For Dragon Fireworks, it's hard to imagine anything but a bright and vivid future ahead.
To learn more about Dragon Fireworks Inc. and to see more photos of events they've done, click here.

Load More Stories