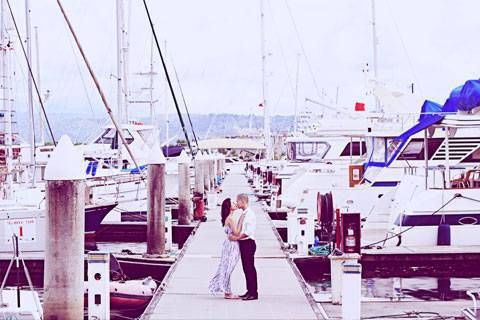 Most (if not all) couples nowadays are open to the idea of having their wedding and prenuptial videos done. From quirky concepts and creative shoots, to same-day edits with HD coverage, wedding videographers and photographers have thought of everything to fill the growing demand for their services. It's no surprise this industry has grown exponentially in just a few short years. And for video enthusiast, Derek Yee, he saw the potential early on.
Derek Yee Video was officially established in 2010, but Derek actually started shooting when he was still in college. Armed with a modest second-hand Sony Hi-8 from his dad, he shot the videos he needed for class. Soon enough, he started to shoot far more than what his school projects required. But more than shooting, what really sparked his interest was editing. He studied on his own, and eventually realized that he could turn his hobby into something lucrative and worthwhile. He partnered with a classmate who was a photographer and together they covered all kinds of events. After some time, Derek decided to go on his own and concentrate on what he grew to love the most: weddings.

ADVERTISEMENT - CONTINUE READING BELOW
CONTINUE READING BELOW
Recommended Videos
Now, Derek Yee Video is managed by Derek and his better half. He says their husband-and-wife team is one of their strengths because according to him, being a couple allows them to relate well and understand where their clients are coming from. Their cinematography and artistic styles also vary to complement the bride and groom-to-be's personalities. Whether it's concept or story-driven, funny or heartfelt, Derek makes it a point to deliver what his clients want and comes well-prepared. A day prior to any of his engagements, he already internalizes the shoot by playing the couple's chosen music and artfully stitches together the images in his head. He loves how everything about weddings, down to the smallest details, is all worth capturing.
Aside from searching for the latest gadgets, Derek draws inspiration from his regular fill of local and foreign wedding videos, and even romantic comedies (though he stresses that he isn't a fan). In the near future, Derek wants to train out-of-school computer savvy youth who he thinks can enliven the industry. He also hopes to expand the business by catering to clients overseas. By constantly finding ways to improve his craft, Derek fuels his passion for what he does.
ADVERTISEMENT - CONTINUE READING BELOW
Comments
Load More Stories