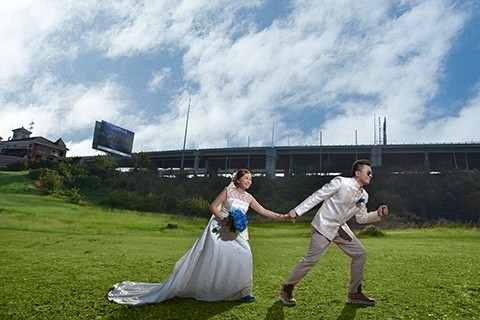 Your photographs are your ticket to the past. Through these handy mementos, you can journey back to your favorite moments in just one glance.
CJC Photography is an experienced photographer known to deliver exquisite photographs of couples on their special day. Armed with passion and precision, this photographer knows exactly which poses will work best for her couples.
To establish rapport with her clients, Jana Chiu, the brains behind CJC Photography, sits down with her couples to learn about their style and photography preferences. As a former bride, she knows which angles will give more power to the photographs, and best flatter her couples' features. She relays, "I make sure that we agree on the concept and mood of the shoot so they won't feel awkward when I ask them to pose. I bring some sample photos and pegs to the meeting and have them select a few poses they like. I do this to make sure that no vital shots are missed."
ADVERTISEMENT - CONTINUE READING BELOW
She specializes in documentaries and portraiture. She shares, "I'm most fond of capturing facial expressions of the fathers-of-the-bride when they see their daughters walk down the aisle for the first time.I shoot it as I see it. I anticipate every reaction so I can capture every important moment."
CONTINUE READING BELOW
Recommended Videos
Jana's main goal is to make her couples happy through tastefully taken photographs that don't look too posed or staged. "As a photographer and a woman who has been married, I understand my clients' need for creativity. So with the help of my team, we look for non-touristy venues that can complement their chosen theme. I also work hard to keep them comfortable, so I make sure that I stay organized, reliable, respectful, unobtrusive, and adaptable to their needs."
She stays on top of her game by relentlessly improving her style through practice and experience. Her heart for this art is what keeps her motivated to be the best in her field.
ADVERTISEMENT - CONTINUE READING BELOW
To see sample photos and packages of CJC Photography, click here.
Load More Stories