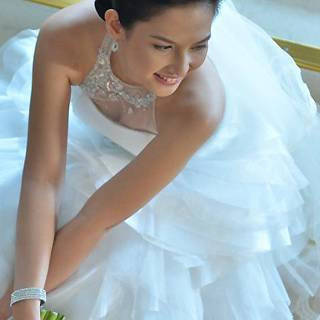 The bridal attire is one of the most photographed details in the wedding, so it is not surprising that the bride puts so much thought in its creation. A bride painstakingly envisions the style, cut, length, fabric and even the shade of her dream gown--even if she will probably wear it only once. With her imagination, the bride also needs a designer who can facilitate the fruition of her vision. 

The mark of an excellent gown designer doesn't stop in the creation of a frock that expertly brings out a bride's asset or hides her flaws. Rather, he or she must also possess the ability to understand the intricacies of a woman's mind and body--and gown designer Camille Garcia solely anchors her body of work in this thought. "Women are so complex, and their preferences are so distinct," she shares.  Camille favors not having a design template for clients, but rather starts afresh with each new bride. She also stresses the importance of understanding a woman's body. "I like to emphasize the woman's S-curve by focusing not just on fitting, but experimenting with the body's proportions," she adds. 

ADVERTISEMENT - CONTINUE READING BELOW
Initially a degree holder in Business Management, Camille's love for art pushed her to take a second degree in Fashion Design from the Fashion Institute of Design and Merchandising in San Francisco, California. At first, she created gowns for family and friends--it was only a matter of time before she opened a bridal boutique of her own. Over the years, she developed her style, which she describes as "fluid, clean and polished." While asymmetry, draping, and construction details have always been instinctive elements of her designs, Camille divulges that she's very much into clean lines. "I like creating gowns that are elegant with impact, but never too overwhelming or distracting," she narrates. "I think it's important for a gown to highlight and to balance key design elements. The reason why a specific design detail is there is both artistically and carefully calculated--it's never random," Camille adds.

ADVERTISEMENT - CONTINUE READING BELOW
Camille typically starts the process by doing a body assessment on each client. She considers what would best flatter the bride's assets, and what particular areas of the body that the bride wants to highlight or conceal. Camille even goes beyond the call of duty by putting the ceremony and reception venues into the equation, believing that the design will also affect what look would be appropriate for the setting. She likes to get a better idea of a bride's sense of style through her inspirational photos, personal insights and ideas. However, if the bride rests the creativity all up to her and relies solely on her ideas, she deems that the results usually come out even better.

As for the future, Camille envisions her brand to be internationally established, and for her label to be known for being sophisticated and chic. She will continually strive to create bridal apparel for women who want to wear elegant fluid designs that enable her individuality to shine through. As Camille puts it, "Every woman deserves to be a blushing bride on her wedding day."
ADVERTISEMENT - CONTINUE READING BELOW
To see sample creations and to contact Camille Garcia Bridal Couture, click here.

Comments
Load More Stories