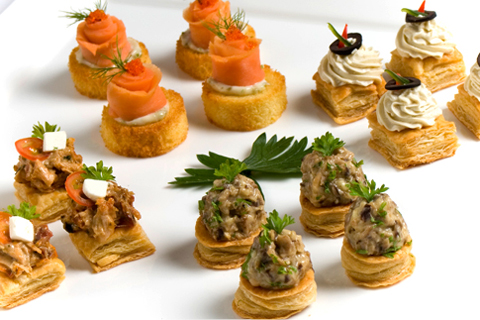 It started with their delicious French pastries, followed by an impressive menu of savory dishes served at their cafe and bistro. It was the kind of food that one wanted to have at parties and special occasions, and soon after that Bizu Catering Studio was created to address the growing demand of clients who wanted to have Bizu at their private functions.

Today, Bizu not only caters at corporate and social gatherings, but their creative and efficient staff has pulled off many successful--not to mention simply beautiful--weddings as well. The catering team's passion and dedication is evident in each celebration, from the delicious dishes prepared and elegantly presented to the tasteful styling.

Whether it's for an intimate sit-down dinner or a buffet set-up for more than a thousand persons, their varied menu allows clients to choose from a wide array of Continental cuisine and specialty foods. Notable favorites include the 10-hour Roast Beef Carving, Whole Roast Lamb on the Spit, their homemade pastas with real sauces, and their organic salads using greens grown from their own farm. To cap off their sumptuous menu, Bizu also offers cakes and decadent dessert buffets--truly, the kind of food you'd want to share on your special day.

To make sure brides get the best Bizu experience on their wedding day, the catering team has a special wedding package that includes not only a customizable menu but other amenities as well such as an elaborate dining set-up (including the couple's table, VIP tables as well as a table for the cake), a complete buffet set-up, and a full bar service. Bizu also takes care of the styling using elegant white Tiffany chairs and themed floral centerpieces, plus a backdrop for the couple's table.

Even the smallest details, such as menu cards and tables numbers, are meticulously prepared. To thank guests for coming, Bizu also offers treats and favors that they can take home.

With such attention to detail and professional service, all the couple has to do at the wedding reception is relax and enjoy the good food in the company of friends and family.

Inquire about Bizu Catering Studio's packages here.

ADVERTISEMENT - CONTINUE READING BELOW
CONTINUE READING BELOW
Recommended Videos
Comments
Load More Stories