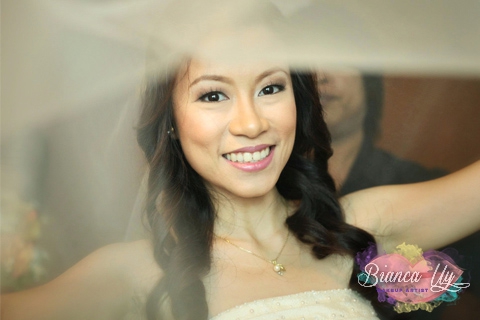 Nothing could be classier than a bride who knows how to carry herself. Her charm radiates in her graceful movements, and in the confidence on her flawless face.
Bianca Uy has made it her goal to make brides feel most confident on their wedding day. An experienced makeup artist, she has been dolling up brides for over four years since she graduated with a degree in makeup artistry at Lasalle College International.
Bianca entered the wonderful world of weddings to bask in the beautiful things that come with the industry, and to gain experience in the art of makeup and hairstyling. She relays, "I have always been fascinated with weddings. Since I was a kid, I've been daydreaming of my special day; and now, I want to help others with theirs."
A skilled artist, Bianca is proficient in classic makeup, and remains attuned to new and modern trends and techniques. Bianca adds, "I get to know my clients better to gain perspective on what they want for their big day. I work closely with them and help them feel comfortable around me, so I can assess which look best suits their taste and personality."
ADVERTISEMENT - CONTINUE READING BELOW
Being a bridal makeup artist isn't easy, but according to Bianca, she's up to the challenge. She adds, "Styling a bride is different from styling any other client because of the details the event requires. Everything has to be as perfect. It takes time to achieve the most natural, radiant look, but I always give my very best to all my clients."
To keep abreast of the trends and to sharpen her skills, Bianca turns to workshops and beauty seminars for inspiration. She also continues to practice and research on fresh products and techniques during her free time, so she can come up with a different look for every bride. According to Bianca, her fascination for makeup is finally paying off, for what started out as a hobby turned out to be a passionate career and a lucrative business.
For more information on Bianca Uy, click here.
Load More Stories