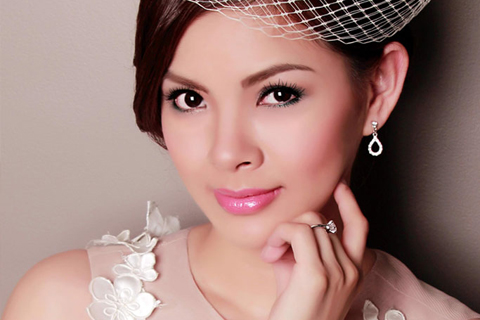 Aside from donning a dreamy wedding dress, a bride also aims to have a glowing bridal make-up look that will match her loving disposition. For professional make-up artist Bea Almeda, it is her task to give each bride a look that will make her feel even more beautiful on her big day. "[It is] absolutely necessary for everything to be perfect and impeccable," Bea says.
Bea's fascination for make-up began when she worked as a flight attendant for Philippine Airlines, where they were required to put on make-up everyday. As her interest grew, Bea pursued a make-up degree in Make-up Designory-Manila, where she eventually earned a diploma. She then started doing make-up for fashion shows, theater, movies, magazine shoots, and weddings. Bea's immense passion for her craft shines in every project she undertakes. She shares, "No matter what your color is or your disposition in life, you can express yourself in several ways through make-up."
ADVERTISEMENT - CONTINUE READING BELOW
While Bea is comfortable doing make-up for various events, weddings ignite Bea's passion most. "Being in this environment constantly gives me a different perspective. I grew to love the challenges that [weddings] bring and the energy that surrounds [them]. The general feeling of excitement and bliss, [and] the hope for a lovelier future for my clients get my creative juices flowing. There is inspiration everywhere, and I cannot help but feel blessed and honored [whenever I am chosen] to play such a major role in their wedding," shares Bea.
As a wedding make-up artist, Bea confesses that she is very meticulous. Each of her clients is asked to answer a 4-page make-up trial questionnaire, which explores their facial features, personal style, and wedding details. With the information she gathers, Bea shortlists cosmetic products that will best suit their particular needs and personal taste. Her questionnaire also comes with a face chart, which allows Bea to remember all the products she used during her client's make-up trial. With her systematic approach, Bea and her brides' collaboration features both Bea's expert vision and her client's distinct personality.
ADVERTISEMENT - CONTINUE READING BELOW
To give her clients the best make-up services they deserve, Bea exerts effort in keeping up with trends in make-up. Bea is constantly on the lookout for new make-up courses here and abroad to widen her knowledge, and also subscribes to different make-up magazines and blogs to learn the latest techniques.
Driven by her passion for make-up and commitment to deliver quality customer services, Bea gifts her clients with the most beautiful way to make their big day truly memorable.
Click here to get in touch with Bea Almeda Make-up Artistry.

Comments
Load More Stories