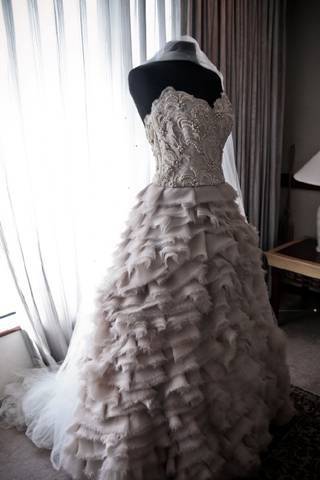 Even as little girls, some women include planning a wedding in their leisurely tasks. When they close their eyes to imagine their big day, they visualize an older version of themselves wearing a long white gown. Such is the emotional investment that most girls put into the wedding dress, and Debbie Co makes the dreams of the little girl in every woman come true with her intricately designed wedding gowns.
Each dress by Debbie embodies sophistication, class, and glamour in every detail. Her gowns are crafted based on classic styles and modern trends, and are directed by her brides' personalities.
Debbie forayed into the fashion industry when she decided to take up courses in fashion design both here and abroad. Central Saint Martins in London and Parsons The New School for Design in Paris have groomed her to be one of the best in the country. By staying in London and Paris to complete her education, she was able to gain firsthand knowledge on the latest trends showcased in these high-fashion cities. Debbie shares, "My experience in London and Paris have widened and deepened my fashion boundaries.  It has greatly enhanced and improved my designing skills.  Living in these two cities for a while has also given me the opportunity to explore and absorb their fashion culture." While Debbie's background in fashion shaped her aesthetic sense, it was her degree in engineering--which she finished prior to fashion design--that helped hone her attention to detail, which is critical in her craft.
ADVERTISEMENT - CONTINUE READING BELOW
CONTINUE READING BELOW
Recommended Videos
After earning her stripes, Debbie returned to the country, and this revolutionary designer started designing clothes for different local brands. In the bridal industry, she has made a name for herself through her elegant, romantic, and timeless wedding ensembles. She's known for her serpentine and ball gowns that showcase intricately sewn flounces and elaborate details.
In every piece that this prime couturier makes, she incorporates the bride's desires and personality into her wedding gown. Debbie shares, "The first meeting with the client will be about getting to know her in terms of what she likes--her preferences, body type, what she wants to accentuate, and what she's conscious about. Of course I want to create a gown that the bride will feel absolute best in, that's why these information are vital."
What sets Debbie apart from other gown designers is her ability to produce bridal gowns that sets the benchmark in terms of quality and design. Her innovative creations continue to get raves from brides and brides-to-be in the local market, With Debbie's design sense and impeccable craftsmanship, it's not surprising if brides in the international sphere will enjoy her exquisite gowns in the future.
ADVERTISEMENT - CONTINUE READING BELOW
For more information on Atelier Debbie Co, click here.
Load More Stories