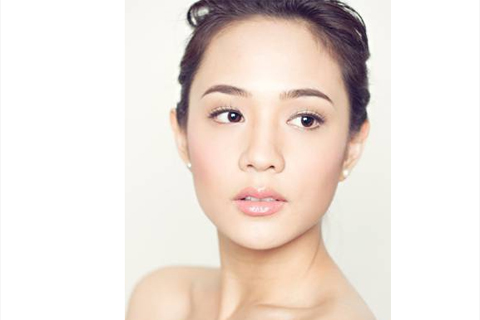 Every bride possesses a different look and personal style. But each bride wishes for one thing--and that is to look her best on the day she exchanges "I do" with the love of her life. For professional makeup artist Anjie Gogna, doing bridal makeup requires a special collaboration between her and the bride. "The result should be a seamless blend of the bride's vision and my aesthetic and expertise as an artist," Anjie explains.
To come up with a bridal look that best suits her client, Anjie examines each bride's facial features carefully. Having worked with a wide range of brides with different personalities and ethnicities, Anjie has developed a tasteful eye for determining which look will enhance a bride's natural beauty.
Understanding the emotion that each bride invests in her wedding, Anjie gives her best to make each client look undeniably beautiful. Anjie shares, "I don't believe in template looks. The way makeup is applied has to be adjusted according to the client's features, and skin-type, [among other things]. Even the hairstyle has to suit the bride's face shape. As a makeup artist, [I] have to be ready with options for products and a range of looks."
ADVERTISEMENT - CONTINUE READING BELOW
Each stunning makeover by Anjie starts with the perfect base. "Making the skin appear flawless and radiant is the best foundation for achieving any look. On the day of the wedding, the bride will have an inevitable inner glow, and I should be able to pick up on that glow," asserts Anjie.
CONTINUE READING BELOW
Recommended Videos
Anjie also employs various creative uses of eyeliner. "I've done makeup for a number of Filipina, Chinese, and Indian clients. Working with different ethnicities will require different looks, but in my opinion, the one element that cuts across the various ethnicities is the magic of eyeliner. Aside from using false lashes to open up the eyes, using eyeliner to define the eyes never fails. When eyeliner is applied right, the eyes appear captivating in all beauty shots of the bride. Aside from defining the eyes, eyeliner also helps camouflage the false eyelashes, and makes everything look flawless," Anjie shares.
ADVERTISEMENT - CONTINUE READING BELOW
While Anjie already has her go-to techniques, she keeps an eye on the latest local and international beauty products and trends to keep her skills and style updated. "Sharing techniques and comparing notes with fellow makeup artists goes a long way for me," she adds.
Moreover, Anjie presents extensive packages, which come with other offerings, among which are hosting services from her brother, Sam YG of Boys Night Out.
With Anjie's versatile style and personalized services, each bride she styles celebrates her timeless beauty and individuality.
Comments
Load More Stories