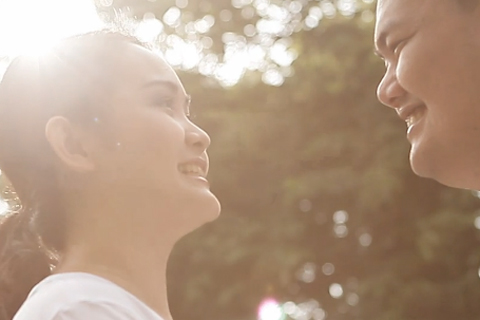 If you're like most couples, you've probably asked yourself how your wedding can reflect your personality as a couple. Putting your stamp on various details is important, since you want your big day to be unlike anyone else's.
To set the tone your wedding, you can star in a prenuptial video that highlights your love story. Whether you choose to do a one-minute save-the-date video or a five-minute mini movie, your flick should be all about you--and Aisle 1401 can help you achieve just that.
While some videographers pride themselves in doing elaborate videos, Aisle 1401 chooses to stick to the heart of any pre-wedding video: the couple. Shares the team, "Aisle 1401's main goal is to help our couples create videos that are truly theirs, something that would transport them back to how things were before the relationship evolves in marriage. What really makes each video unique is the starring couple."
ADVERTISEMENT - CONTINUE READING BELOW
The team behind Aisle 1401 painstakingly conceptualizes every video to make sure that it will suit the couple who'll be in front of the camera. They elaborate, "Since each couple is unique, each video is highly personalized. We do not treat the videos we make as ours but theirs, and we take pride in our couples' involvement in their videos. Our couples have the most freedom in the production process, from conceptualization to post production, and even to how many videos they want."
CONTINUE READING BELOW
Recommended Videos
The process of making each video unique can be tedious, but the Aisle 1401 team feels that it's the only way to do things. At the start of any project, the team gives the couple a questionnaire that will let them share how they together. From there, the team brainstorms with the couple until they find a concept that the couple and the Aisle 1401 team are in love with. "We basically put together the concept and theme for the videos from the couple's homework, which will include their objectives, preferences, and bits and pieces of personal information that we can use," the team shares.
ADVERTISEMENT - CONTINUE READING BELOW
Despite the fact that the team is meticulous about every video they produce, they do not forget that at the end of the day, the video should be about the couple. All the fancy backdrops and costumes are just secondary to the couple's chemistry, which should be the focus of any output. The team behind Aisle 1401 knows that your love story does not need additional embellishments--it is uniquely beautiful as it is.
Comments
Load More Stories