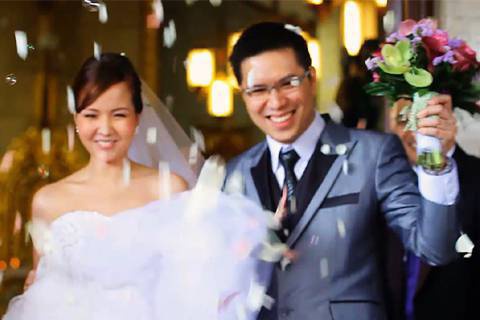 There are many sides of a story. And in the case of weddings, which are among life's most memorable events, every angle you see is overflowing with sheer love and bliss. This is why marrying couples invest in a good wedding videographers--those who have the eye for detail, and can fully capture the love and beauty that lie behind every wedding. One such videography team is A.G. Garza Wedding Films.
Headed by Garry Garza, A.G. Garza Wedding Films started in 2003. To set his mark in the industry, Garry introduced the use of aerial shots in covering weddings. The bold technique reveals Garry's contemporary style as a videographer and his perception that every wedding is unique. "Different weddings have different stories. They each have their own story to tell--no two are exactly the same. Shooting wedding videos gives me the opportunity to capture people's feelings in different angles, what I see may not be the interpretation of the one viewing it. You get to see different emotions that you may only see when attending a wedding. It's a movie on its own. It gets to have its beginning and a life of forever," explains Garry.
ADVERTISEMENT - CONTINUE READING BELOW
Garry's passion for his craft is evident in his outputs. He was inspired to establish his own video company after working part time for his uncle's video editing studio, which eventually closed down. "I saw the potential of marketing my services in weddings at that time when the industry was just small and there were only a few videographers doing the rounds in weddings. We definitely made a niche in the market," he shares.
CONTINUE READING BELOW
Recommended Videos
As he sees every wedding differently, Garry takes a very personal approach when dealing with his clients. His  approachable and friendly demeanor allows him to establish rapport with his clients, which allows him to connect with their love story. When he meets with marrying couples, Garry also makes sure that he and his clients both get to share ideas in order to come up with the style and theme that would best suit the wedding video. "I don't force my concept if I feel that it would cause [any sort of] awkwardness in the couple. I try to assess their personality based on our meetings and would give suggestions," Garry says.
With Garry's innovative techniques, personalized customer service, and consistent high-quality work, A.G. Garza Wedding Films has received recognition from reputable video associations, such as Wedding & Events Videographers Association. His team regularly attends seminars to keep their skills and style updated as well.
With the constant drive to excel in his craft, Garry propels A.G. Garza Wedding Films to deliver unique wedding videos to marrying couples who wish to have their love story told in a very special way.
ADVERTISEMENT - CONTINUE READING BELOW
Click here to watch sample wedding videos by A.G. Garza Wedding Films.

Load More Stories