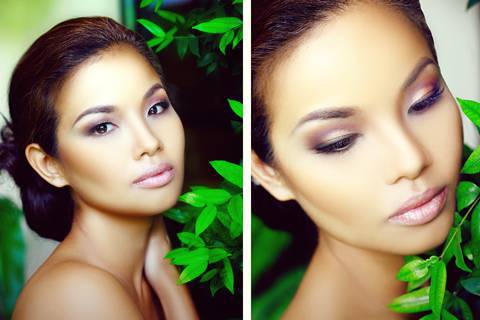 Most brides wish to sport a no-makeup look as a way to celebrate their natural beauty on their big day--and professional makeup artist Acie Fores couldn't agree more. She says, "[Bridal makeup is all about] bringing out the inner beauty and glow of the bride on her special day.  A bride should always look like a better version of herself. [She should] not be transformed into another person that she is not comfortable with." With this principle, Acie feels compelled to address women's real beauty needs, and boost their confidence through her craft.

When working with brides, Acie stands by her beauty mantra that less is more, as most of her clients go for a classic, regal look. Should she encounter brides that are quite adventurous, Acie indulges them with a sophisticated look featuring smoky eye makeup.

To make sure each look she creates suits the bride, Acie sees to it that she gets to know her clients well. "With brides, a trial consultation is always a must because then you get to assess her needs and discuss what the bride envisions for her special day. [You discover] how she wants to look based on her theme," explains Acie. Aside from presenting different bridal look options, Acie also creates a face chart for each of her clients to clearly illustrate the look she has envisioned for the bride's big day.

ADVERTISEMENT - CONTINUE READING BELOW

Acie realizes that while brides may want to highlight different features, they all want to look especially stunning for their wedding. With her experience in the business since 2009, Acie knows how to create different looks and deal with various personalities as well. Her makeup courses at School of Fashion and the Arts and professional training at Maquillage Professionel have equipped Acie to become the meticulous makeup artist that she is today.

To make sure that her clients get the best kind of makeup service they deserve, Acie keeps herself updated with the latest makeup and style trends, and regularly takes local and international short makeup courses. "I consider myself a work in progress, as every opportunity to practice and work on your skills is a learning experience for me," shares Acie.

ADVERTISEMENT - CONTINUE READING BELOW

With her cosmetic expertise and personalized approach, Acie allows her brides to bask in beauty and grace on their big day.
Comments
Load More Stories