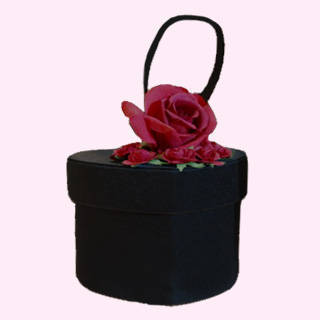 While finalizing your wedding gown's details can be quite a challenge, finding shoes and a bag to complement your outfit isn't exactly easy either. At one point or another, we've experienced combing through scores of shops just to come upon the perfect pieces to complete a formal ensemble.
If you want to make things easier for your wedding, consider having your shoes and bag custom-made--House of Magdalene does just that. Managing Designer Dina Joson has available templates for shoes and bags (see their Rosa Mia bag, pictured right) but you can also give her pegs for your accessories. Or better yet, you can collaborate with her to come up with styles that are specially made for you!
House of Magdalene uses premium fabrics and other materials like fish skin, genuine leather, snakeskin, capiz, carabao horn, and mother of pearl. If you'd rather use the same fabric as your gown, you can just provide them with one-fourth to one-sixth yard of fabric, and they can already craft your shoes or bag! You can even ask them to spruce up your shoes and bag with beadwork or embroidery.
ADVERTISEMENT - CONTINUE READING BELOW
Orders can take two to six weeks to complete, depending on the quantity of custom-made pieces you commissioned. For more information on House of Magdalene, you may check their contact information here .
Photo courtesy of House of Magdalene

Comments
Load More Stories