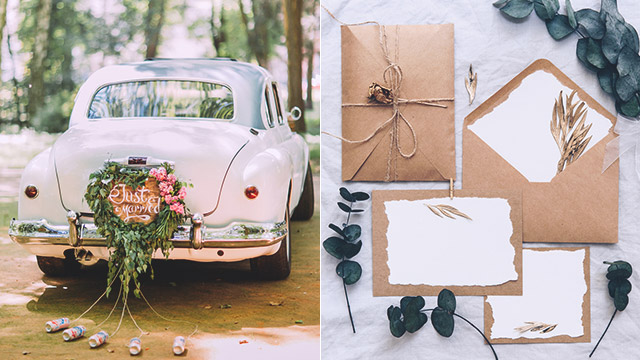 As much as you want to make your dream wedding happen, you also wouldn't want to be in debt for the next six months or so. Yes, staying within your wedding budget seems like a tricky feat, but there are many Pinay brides who have managed to do it, all because they made the financially-savvy decision of cutting off a few expensive options and replacing them for something a little more practical. 
ADVERTISEMENT - CONTINUE READING BELOW
So if you're working on a strict budget, here is a list of conventional wedding details you can skip—and the affordable options you can swap them with:
Instead of splurging on: paper invitations
TRY: Evites
Invitations are a sneak peek of your big day and they will naturally set the tone for your nuptials. But in this day and age where you can invite 200 guests to your wedding just by posting a digital invite on Facebook, taking the paperless route is surely a money-saving move.
FN Tip: You can consider sending out evites to your digital-savvy friends and paper invitations to your older relatives. This way, you can keep all parties happy. 
Instead of splurging on: wedding souvenirs 
TRY: Spending it on a mobile bar 
Giving away wedding souvenirs isn't the only way to make your guests remember your big day. Why not treat them to free-flowing drinks that'll ensure you'll all have a long, fun night ahead?
CONTINUE READING BELOW
Recommended Videos
FN Tip: Wedding favors may seem like a small detail, but it also takes up a big chunk of your budget, so if you still want to have them, make sure that they're something that your guests will actually use.
Instead of splurging on: an expensive wedding reception 
TRY: Holding your wedding at a family property or picking an outdoor venue with a good view 
Travel blogger Kimi Juan and her beau Thomas Caja only spent P300,000 for their big day by cutting down on a few major expenses like the venue. Instead of booking a grand ballroom, she opted for her grandma's cozy place by the beach. While not every one has a beach property, you can try booking an outdoor venue with a breathtaking view. Let the place speak for itself, and you'll be spending (and worrying) less about the decorations. 
ADVERTISEMENT - CONTINUE READING BELOW
Instead of splurging on: a full-time wedding planner 
TRY: Hire a day-of wedding coordinator 
If you're a busy couple with full-time jobs, a professional wedding planner will surely be of big help, especially when doing the time-consuming, "matrabaho" parts of the planning process, such as sourcing the best suppliers who can achieve your pegs (remember, there are hundreds of suppliers out there) and booking and dealing with these vendors. 
ADVERTISEMENT - CONTINUE READING BELOW
The entire planning process, though, can also be a fun experience for you and your fiancé, and with a bit of patience, everything can work out even without a wedding planner. Anne Curtis and Erwan Heussaff, for example, planned their New Zealand wedding all on their own. Our suggestion? Book a wedding coordinator instead, who will take charge on your big day and ensure that everything you and your S.O. planned will run smoothly (this is the time, after all, when you both just need to relax and enjoy). Because they'll only assist you on the day of your wedding, their costs are normally lower compared to full-time wedding planners. 
Instead of splurging on: a fancy bridal car 
TRY: Asking your friends if they've got a nice, white car 
Traditionally, bridal cars are part of your entrance (and your wedding video). Unfortunately, renting a bridal car can cost around P5,000 to P16,000. If you and your S.O. are working on a strict budget, why not simply tap your BFFs or relatives for an appropriate vehicle they can lend you? Think about it: you'll only need it for a few hours, and the guests' attention won't exactly be on the car—they'll be focused on you. 
ADVERTISEMENT - CONTINUE READING BELOW
Instead of splurging on: a same-day edit video
TRY: Hiring a videographer for a traditional wedding video
Nowadays, it seems like every wedding is never complete without a same-day edit video. While it's nice to look back on the sweet moments of your big day with your guests, an SDE video can be costly (unless it comes in a packaged deal). Besides, it might even be sweeter to watch your wedding video on a later date when it's just the two of you, cuddling in your cozy bed. 
Load More Stories