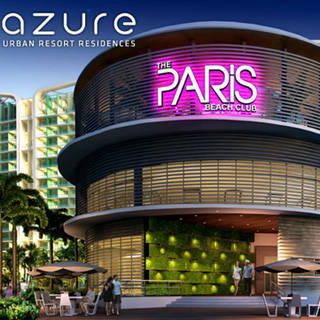 Living in the metro presents lots of advantages, but even urbanites need to unwind and take a breather from the busy city life. While beach trips are the usual pastimes for many Filipinos, such vacations usually entail long drives. To present the perfect balance between the city's energy and the beach's laid-back feel, reputed real estate group Century Properties set up Azure Urban Resort Residences.

Quite unlike any other residential project, Azure Urban Resort Residences is poised to showcase the good life with its residential beach resort concept. Located in the metro south, Azure Urban Resort Residences will feature its own man-made beach and a lavish club house. In keeping with the luxurious lifestyle that the project encourages, Century Properties tapped hotel heiress Paris Hilton to design the beach club.

Residents can look forward to enjoying beach vacations every day, as the buildings are named after famous destinations: St. Tropez, Maui, Rio, Maldives, Miami, Santorini, Bahamas, Positano, and Boracay. Leisure facilities, like a restaurant, a bar, a spa, and a gym are all expected to be part of the clubhouse. Sprawling tree-lined lawns and stretches of sand complete the holiday experience.

For a glimpse of what Azure Urban Resort Residences has to offer, see the gallery below.
To schedule your visit to Azure Urban Resort Residences' showroom, click here.

Comments
Load More Stories