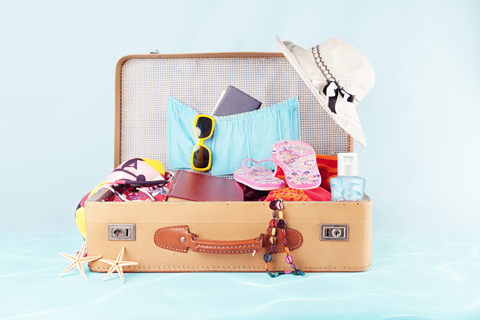 After planning your dream wedding together, you and your husband deserve some time alone. Your honeymoon presents you with the perfect opportunity to enjoy each other's company as husband and wife.
To help you get ready for your trip, check out the list of honeymoon essentials below.
Basics to Mix & Match
No matter where you've planned to spend your vacation, remember to pack light so that you'll have space for souvenirs on the way home. Opt for basic yet smart pieces--such as a white button down shirt, jeans in a dark wash, and a large scarf--which you can easily dress up or down. Also bring your trusty little black dress that's perfect for a romantic dinner. No matter what outfit you put together, remember that confidence is your best accessory.

Comfortable Shoes
You'll enjoy touring more if you're wearing comfy shoes that are appropriate for your destination. Bring two pairs of neutral-colored flats, which you can use in alternation when you go sightseeing. Also bring a pair of flip flops, especially if you'll be going to the beach. Don't forget to tote a pair of heels or wedges if you plan to hit the bars at night.
Mp3 Player
Fill your MP3 player with your favorite songs so you won't be bored on the way to your destination. Music can make the long flight or drive to your vacation spot more enjoyable. Also include a playlist of your and your hubby's favorite romantic songs for when you need some mood music.
ADVERTISEMENT - CONTINUE READING BELOW
Nice Lingerie
Nice lingerie not only serves as the foundation for any outfit you put together, but it also helps you exude confidence from within. Opt for a pair that you'll be comfortable wearing. However, also remember that it's your honeymoon, and now would be a good time to indulge in a fancier set. Your honeymoon presents the best time to try out new lingerie styles sexier than ever, so get rid of your inhibitions and confidently flaunt your assets with a daring ensemble.

Personal Hygiene Items
Hygiene shouldn't be comprised, especially on your honeymoon. Make sure that you always feel fresh by packing your favorite bath items. Don't forget to bring Lactacyd White Intimate, which effectively cleans the feminine area. Lactacyd White Intimate is made with natural and hypoallergenic ingredients, and is dermatologically tested safe for everyday use. With regular use, Lactacyd White Intimate also lightens the bikini area in four weeks -- so you can confidently wear short shorts, tiny bikinis, and sexy lingerie on your honeymoon.

Comments
Load More Stories