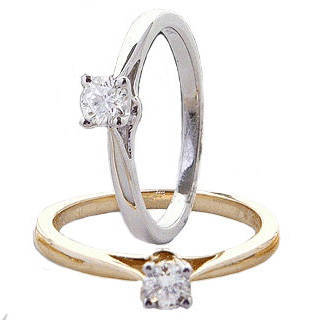 A wedding engagement  is an unforgettable milestone in a woman's life. It usually involves elaborate romantic, oftentimes surprise proposals with an engagement ring cleverly disguised in bouquets, balloons, or even teddy bears.
But for other couples, an engagement is marked with a smile, a nod, and a few simple words, and the engagement ring comes much after.
Whether the engagement ring is an unexpected gesture or carefully picked out by the bride-to-be herself, a solitaire diamond is a timeless favorite, with round brilliant-cut diamonds as the most popular choice as this cut best features a diamond's fire, sparkle, and brilliance.
To mark the beginning of forever, Karat World celebrates love and diamonds with an Engagement Series called Engagement, a collection of five designs of diamond solitaires and solitaire accented rings. 
The rings reflect stylish and traditional designs that appeal to the different lifestyles and personalities of a woman. The Engagement Series feature diamonds ranging from 0.15 carats to 0.50 carats in size set in either yellow or white gold.
To view Karat World's Engagement Series, take a look at the gallery below.
For more information on Karat World, click here to view their directory listing.
Comments
Load More Stories