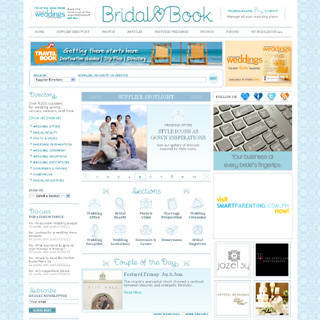 If you're a regular visitor of BridalBook.ph, you might have noticed some changes on our home page over the week. Back when we had our teambuilding and brainstorming session in late June, our team talked about various site improvements to make the browsing experience even better for our visitors, and so we're gradually implementing these ideas for you.
There are three new things on our site this week, and I'm very excited to walk you through these features.
Supplier Spotlight


Because we want to help you find suppliers for your special day, we made our homepage flashbox especially for content on local wedding suppliers. Supplier Spotlight gives you easy access to articles featuring suppliers' services and galleries of photos of their products--this means you'll get info on the local suppliers' latest offerings.
CONTINUE READING BELOW
Recommended Videos
ADVERTISEMENT - CONTINUE READING BELOW
Sections


Sometimes, brides log on to the site to look for suppliers and inspiration for a specific wedding detail, and this is why Sections was born. Right below our homepage flashbox are icons that link to content--directory listings, articles, photos, and even forum posts--about your chosen wedding detail. To filter your search for a wedding detail, just click on the corresponding icon!
ADVERTISEMENT - CONTINUE READING BELOW
Couple of the Day

We know that our readers get a lot of inspiration from our featured couples, so we've decided to put up a special box for our Featured Weddings and Featured Prenups--you'll find the box just right below the icons for Sections. Each featured couple will get the chance to be on the spotlight as Couple of the Day, making the experience even more special for our chosen couples and readers. (For a shot of being part of our featured couples, see our instructions here!)
ADVERTISEMENT - CONTINUE READING BELOW
These changes are just the tip of the iceberg--we have so many things in store for you! We hope these initiatives will make your stay even more enjoyable. Browse through our improved site, and let us know what you think! Shoot us an email at admin@bridalbook.ph for your comments and suggestions.
--Kristy
gloweddinglow! :D

Comments
Load More Stories